News
Enterprise Weekend info announced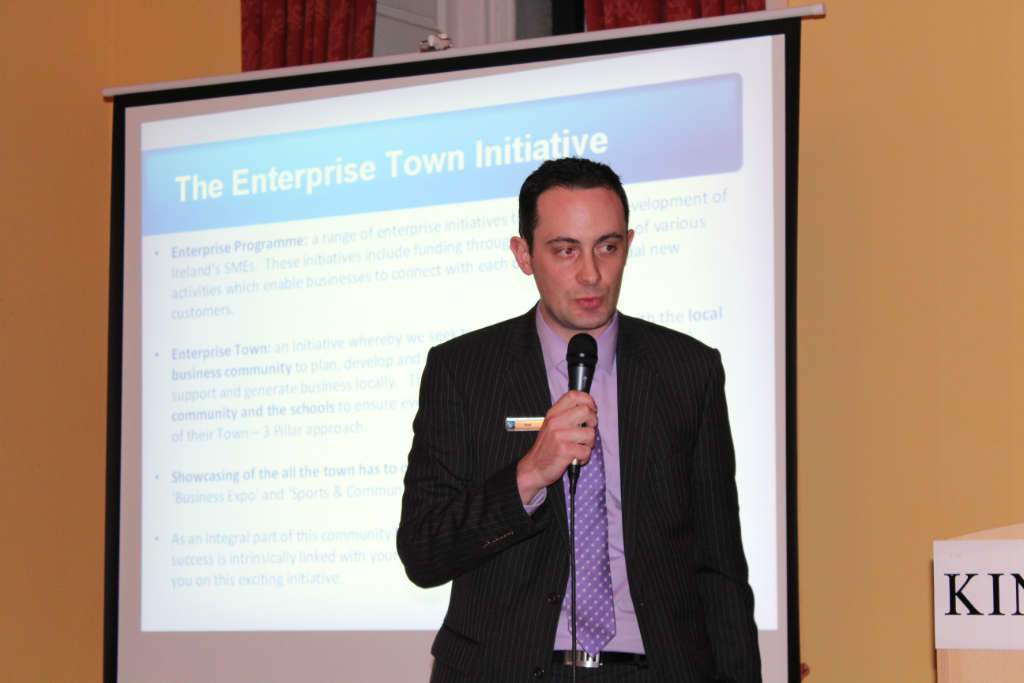 * Boyletoday.com to joint host workshop at Enterprise Weekend
 Bank of Ireland today announced details of an exciting programme of activities for Boyle over the weekend of 27 and 28 February. The Enterprise Town initiative has been organised by the Bank in partnership with the local community in Boyle.
The initiative aims to promote and drive business momentum for SMEs and the agri sector and the wider sports and social community in the locality. The weekend will be formally launched by Dara Callaghan Joint President of Boyle Chamber of Commerce.
 The activities taking place over the two days include a Business Expo, which takes place in Boyle Sports Complex from 3pm to 8.30pm. Local businesses will showcase at the event throughout the day with guest speakers including Dermot Bannon, architect and star of RTE's Room to Improve show, Shane Healy, Vention Medical Ireland Ltd, Niall Murray, Managing Director at Collins McNicholas Recruitment and HR Services, Joe Doyle, Senior Manager at National Payments Plan for Ireland and Niamh Cunningham, local entrepreneur and  Ireland's Best Young Entrepreneur(IBYE) finalist .
During the event two workshops will take place. The first will be hosted by Louise Ward, CEO of the Local Enterprise Office and the second workshop will include presentations from Brian Nerney, Editor and founder of Boyletoday.com and Mark Hand, local entrepreneur and will focus on the power of social media and how to sell products online.
 An agri discussion will also take place during the event with guest speakers including Sean Farrell Head of Agriculture at Bank of Ireland, Gerry Cregg, Teagasc Advisor and Brian Costello, Dairy Farmer at Lough Gara Farms.
 A Fashion Show will take place before the event closes with local boutiques and designers showcasing their upcoming lines of clothing.
 A Sports and Community Expo will take place on Saturday, 28 February in King House, Boyle. The event will open with a Farmers Market starting at 10am and running until 2pm.  The expo will start at 11am and there are over 30 community groups exhibitingincluding a number of sports clubs the Boyle Camera Club, Boyle Men's Shed, and a Civic Art Collection Tour will also take place. There will be live music and spot prizes throughout the day. Mayo Footballer Keith Higgins will attend the Sports Expo along with other sporting personalities.
 Commenting on the initiative, Gerry Whelehan, Branch Manager, Bank of Ireland, Boyle said:  "We are very excited to bring our 'Enterprise Town' initiative to Boyle.  The response from the local community has been heartening and from the outset they have welcomed and embraced our proposal.  I am proud of what we have achieved together over a very short time.
 "Bank of Ireland is committed to supporting the growth in business recovery in this country.  We are open for lending and looking to attract new customers and we want to continue to be the Enterprise Bank in Ireland.  We approved €4.5 billion in new credit in 2014, an increase of 13% over the previous year.  We continue to be the main provider of new SME lending to the market, with more than 50% of the flow of new non-property lending.    The outlook for 2015 is positive.  Consumer confidence levels at the end of 2014 were close to 7-year highs and employment gains are set to continue, supporting a further rise in consumer spending.
 "We would encourage all local businesses and the wider community to engage with this initiative and participate in the programme of activities scheduled for next Friday and Saturday.  There is much talk around the town on the potential that these events have to help drive increased activity for local enterprises.  The Bank has been an active employer and business in this community for a very long time and our future success is intrinsically linked with the success of the local community", Gerry Whelehan.