News
'Exciting times ahead' meeting hears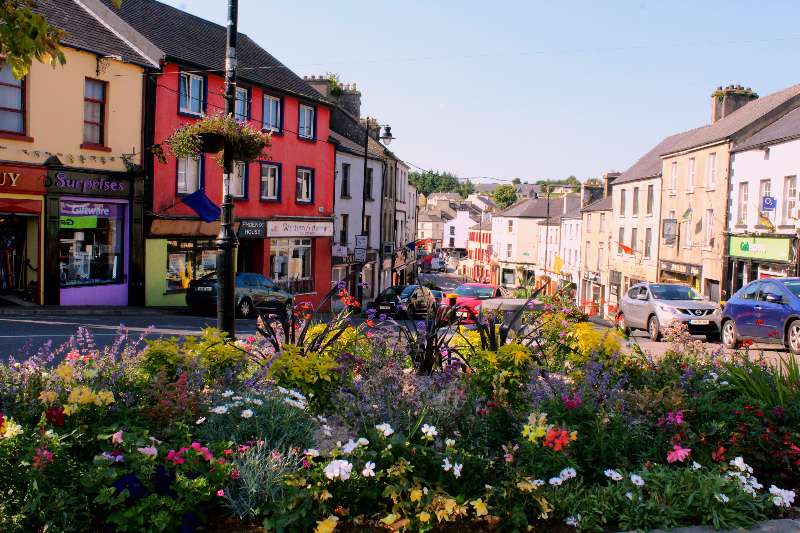 The annual general meeting of Boyle Town Team was held on Thursday night in Boyle Enterprise Center.
The following officers were elected:
Chairman – Brian Nerney
Secretary – David Gunning
Treasurer – Frank Geelan
Colm Kelly from Roscommon Co Co paid tribute to the Town Team commenting they were a role model for other Town Teams who often referenced Boyle's achievements.
Colm also complimented Boyle Town Team on being the first in the county to hold an AGM since their incorporation.
In his wide ranging address to the meeting, Chairman Brian Nerney welcomed all to the AGM and said these are exciting times for Boyle – a town he felt "was on the cusp of a regeneration".
His full address is as follows:
"Roscommon County Council has established Town Teams in six key areas within the county to develop, promote and regenerate the towns and areas in which they are located. This has been achieved through a series of public consultation workshops and as a result Town Teams have been established in each of six towns, namely Boyle, Strokestown, Roscommon Town, Ballaghaderreen, Castlerea and Monksland. Membership of Town Teams represents the wide variety of interests from the community, voluntary business and statutory sectors that will influence the successful development of the towns and their hinterlands.
I am proud to say Boyle Town Team has achieved a lot in our two years of existence.
This includes the Team securing €180k of funding for various projects since establishment and as a result a number of initiatives has commenced with more coming on stream.
The highlight of my term as Chairman has to be the Town Team led win in the Enterprising Town Awards.
It was an honour to have Boyle win the county award but a great accolade for our small town to be judged Ireland's Most Enterprising Town. While we no longer hold this title, we should never forget that we were the first town in the country to win the award and it is marked by entrance signs to the town funded from the award prize money. In addition, there is a permanent window display on Bridge St where the awarded trophies can be viewed.
Invigorated by the win, the Team embarked on a nine point plan for the town. This plan could have been titled Boyle 2020 as much of the work is ongoing and may not come to fruition until 2020 and beyond.
Among the items identified were:
Train The Ambassadors

Investigate the Albergo Diffuso concept

Build on Boyle Age Friendly Status

Restore the first gate of Rockingham

Establish a Greenway from Boyle to Lough Key

Assist in the development of the old courthouse

Formulate a Town Enhancement plan with Roscommon Co Co

Locate Street Art in key areas

Upgrade work to Pleasure Grounds

CCTV system
Some of these projects have been completed while the majority are a work in progress.
I am also glad to say the Town Team were the instigators of organising the joint ticketing collaboration between King House, Lough Key Forest Park, Boyle Abbey and Arigna Mining.
We have this week received the finalised Feasibility Study for the Albergo Diffuso concept and will discuss this at our next monthly meeting.
In addition, it is also our intention to commission a town centre building colour scheme that will act as a guide for businesses who will hopefully undertake a spring painting this year.
Making Boyle to county's first cycle friendly town is also on our list. This is being undertaken in conjunction with Curlieu Wheelers Cycling Club. This will be another accolade for our town.
The establishment of a new position of Town Marketing Manager is something the Team has discussed and will be a priority for 2018.
These are the main plans we have for Boyle but they will not happen overnight and will take time.
In our financial report, you will see not only have we secured much needed funding but we have also supported a number of projects financially in the town.
But I must make it quite clear, we are not an organisation that you come to with the begging bowl. Our funds will be used on long term capital type projects that will make Boyle a better location in which to live and do business.
To gain the economic success and to restore pride in our town,  it is imperative that we have Boyle looking at it's best. That way we will attract investment and the Town Enhancement Plan is a first step in this process that will hopefully see public realm enhancements to Main St, Patrick St and Bridge St areas of the town.
Another item of note during the year, which I was delighted to see was the purchase of the Royal Hotel by Roscommon County Council.. This building has lay idle and become an eyesore in recent years. The Council decided to put their money where their mouth is and stepped up to the mark and for that I thank them. They have democratically requested the public to give ideas for the site and we will know later this month what the future holds for this strategic key town centre location.
Every member of the Town Team from the various groups in Boyle act in a voluntary capacity but we have one common goal – to see Boyle prosper again.
If you are a representative of a group in Boyle and feel you would like to join the Team, please contact any member. We are anxious in 2018 to see some young people join the Team and in this regard I would ask those in the 18 – 30 age group to consider asking a club or organisation to nominate them to Boyle Town Team. Tonight we have elected a new position in Youth Liaison Officer to work with potential new young members. The future lies in our young people so it is important they have their voices heard on their town's future.
While the public may not initially see the results of the hard work we are all undertaking just yet, they will become apparent in the months and years ahead.
Those with their finger on the pulse will and have said Boyle is going places.
I put this down to the good work of the TT, the close cooperation and support we have with Ros Co Co and here in town with the local Chamber of Commerce and other organisations.
It is my firm belief that organisations in Boyle are now working closer together than ever before. This has been noted and is to be welcomed and will stand to us going forward.
One of my wishes when I took office was to lead an organisation that would rise above the criticism and negativity that blights so many small towns like Boyle. I think we have done this and are continuing to do this and by ignoring those who seek to live in the negative we will see growth and prosperity once again in Boyle.
I would like to thank all the Town Team members for the work and commitment you have put into the last two years. All I have mentioned above would not have been possible without your dedication and commitment.
I would also like to convey my appreciation and thanks and that of the Team to Martin Lydon, Colm Kelly and Alan O' Connell and the representatives of Roscommon Co Co for their interest in Boyle and support of all we do. It is a pleasure and ease to work with you all.
These are exciting times for Boyle. I believe we are on the cusp of a regeneration of our town that will see a bright future for us all.
I would ask everyone to continue to work together as is presently the case, remain positive and use every opportunity to promote the town we live in, work in and call home", concluded Brian
Current committee members of Boyle Town Team are : Brian Nerney, Frank Geelan, David Gunning, Alison Clarke, Justina Gavin, Patricia Golden, Dara Callaghan, Cecil Draper, Sinead Devine, John Cummins, Bodo Funke, Mervyn Boles, Trevor Conroy, Margaret Mulligan,