News
Georgian Christmas night in Frybrook House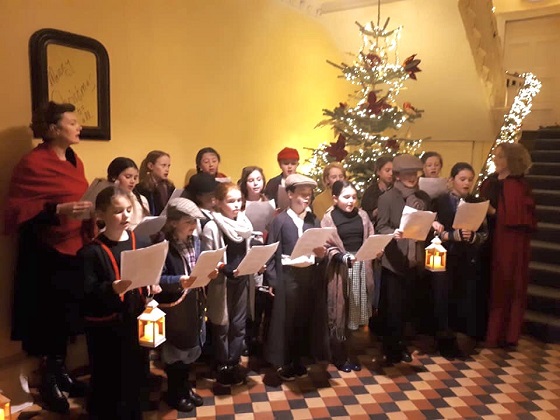 Over 30 guests enjoyed a fabulous Georgian Christmas night on Friday in the spectacular surrounds of Frybrook House in Boyle.
In a once off event to celebrate Failte Ireland's 'Taste the Island' initiative, staff from Kilronan Castle took over the house for the night providing a meal reminiscent of a bygone era.
The evening was the brainchild of Una Bhan Tourism who were the recipients of very favourable comment on the way they organised the event.
With top class service from the Kilronan staff led by Restaurant Manager Emanuel Covasa and food prepared by Executive Head Chef David Porter and his team, the night was deemed by all present to be one of the most memorable socially in Boyle for many years.
Guests were greeted on entry to carols by pupils from Scoil na nAingeal Naofa and later, around the fire, by Bernadine Casserly.
Harp music was by Claire Roche with storytelling by Oliver Grace.
Guests included members of the Fry family and Sarah McCarthy representing Failte Ireland with the owners of Frybrook House Joan, Belinda and Ulrich coming in for high praise for accommodating the night.
Wines were supplied by Dalys Drinks, flowers by Ardcarne Garden Centre with much of the produce for the meal sourced locally where possible.
Menu
Roasted Bone Marrow Foraged Herbs and Soda Bread
White Mutton Broth, Barley Parsley and Winter Truffle
Mallard Duck, Pickled Penny Bun Mushrooms, Blackberry Balsamic
Confit of Organic Salmon Dulse, Black Mussels and Apple
Coopershill Venison Loin, cooked on the bone over Beechwood
Vanilla Carrageen Blacmange
Boiled Festive Pudding and Whiskey Custard
Coffee, Tea and Petit Fours influenced by Frys Chocolate
Marshmallows toasted on flaming turf sods.
(Additional pics courtesy Una Bhan Tourism)