News
Jacek wins Boyle and District Angling club pike festival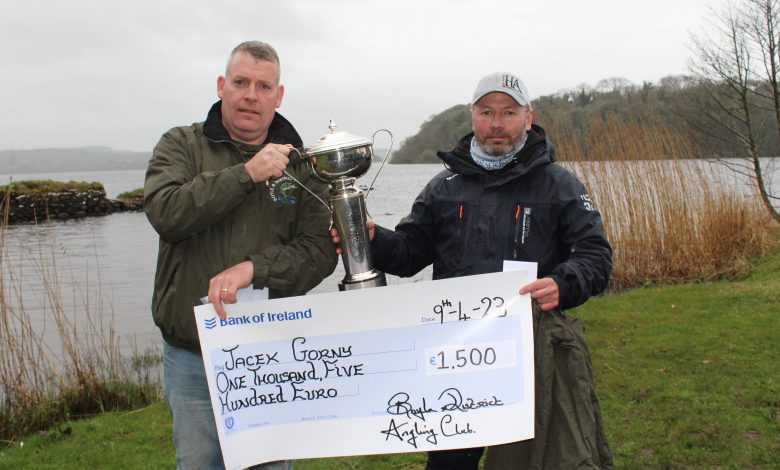 A sunny Saturday gave way to a soaking Sunday as a large number of anglers took to the waters of Lough Key for the annual Boyle and District Angling Club Pike Angling competition.
The overall winner was Jacek Gorny from Lanesboro who receives €1,500 and The Moonstone Jewellers Perpetual Trophy and the Winners Jacket.
Jacek had a fish on Saturday weighing 18lb even and a fish on Sunday weighing 13lbs 11oz is number No 436 Jacek Gorny.
The winner is decided by the combined weight of an anglers single heaviest fish on Saturday and Sunday.
Full Results:
SATURDAY PRIZES
The 5 winners of €100 apiece are as follows:
Pat Healy, with a fish weighing 17lbs even
Joe Byrne with a fish weighing 15lb 12oz
Rafeal Pelc with a fish weighing 15lb 3oz
Patrick Leahy with a fish weighing 14lb 8oz
Terry Brennan with a fish weighing 14lbs 8oz
3rd Place Saturday Joe Mulrennan with a fish weighing 17lb 4oz
2nd Place Saturday is Pat Lyons with a fish weighing 17lb 8oz
1st Place Saturday is Philip Cunningham with a fish weighing 19lb 14oz
SUNDAY PRIZES
The 5 winners of €100 apiece are as follows
Gerry Quinn with a fish weighing 14lbs 9oz
Jim Clarke Jnr. with a fish weighing 13lbs 15oz
Brendan Sharkey with a fish weighing 13lbs 4oz
Brian Gallagher, with a fish weighing 12lbs 6oz
Berzias Kaspars, with a fish weighing 12lbs 2oz
3rd Place Sunday is No 657 David McCrossan with a fish weighing 15lbs 13oz
2nd Place Sunday is No 875 Jarek Sekula with a fish weighing 18lbs 7oz
1st Place Sunday is No 892 Emmett Galvin with a fish weighing 18lbs 14oz
(Jacek is pictured receiving his prizes from Declan Conroy. Full photographic coverage of the prizegiving now on Boyletoday Facebook page)