News
Knockvicar designer to hold workshop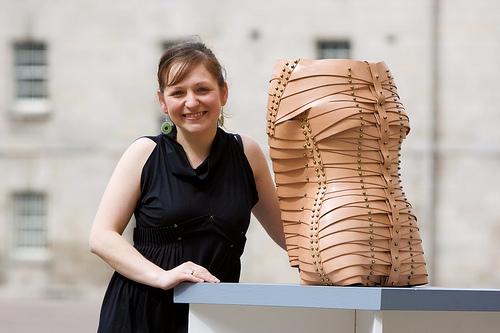 Knockvicar, Boyle native and well known fashion designer Una Burke will make a welcome return to her native county this weekend.
London based Una will conduct a leather design workshop on Saturday at Aras an Chontae in Roscommon as part of the Lamb Festival which is currently taking place.
The multi-award winning luxury leather accessories designer and artist is know for her hand crafted accessories using Vegetable Tanned Bovine Leathers and Solid Brass Fittings.
She set up her eponymous fashion label shortly after graduating in 2009  and went on to win several more national and international awards, including 'Irish Designer of the Year' and nomination for WGSN's Global Fashion Awards in New York.
Úna's work has been exhibited in over twenty countries throughout Europe, Asia, USA and the Middle East.
Una is daughter of John and Martina Burke who run the successful Riversdale House bed and breakfast and Log Cabin self catering facility in Knockvicar.
The Burke family home was once home to another famous person – film actress Maureen O'Sullivan and was purchased by the Burke Family in the early twentieth century.
In a recent interview with the Roscommon People newspaper, Una spoke of growing up in Knockvicar and how she loves to visit home as often as she can.
She also explained that watching her mother sew gave her the inspiration to chose a career in fashion and design:
"I was lucky enough to know from an early age that I wanted to be a fashion designer. My mother taught me to sew on the sewing machine when I was very young. Then when I was about 14 years of age, I began dreaming about fashion. I would see models going up and down a catwalk and I could zoom in to see such detail as the stitching on the pockets.  I hadn't seen these clothes anywhere in real life as I didn't grow up surrounded by fashion magazines or fashion TV. I was surrounded by fields and flowers and animals so it was very strange for me! 
 "I guess that watching my mother sew our childhood dresses must have influenced the visions though, as it gave me a knowledge of garment construction and my grandfather was a cobbler, so the love of leather must have been influenced somewhat by him." she told the newspaper.
Una's workshop takes place on Saturday 29th in Aras an Chontae at 11am with details here
You can visit Una's website here and read the Roscommon People interview here
(pic courtesy stylewhisperings.com)