News
Kyle at IBYE unveiling in Dublin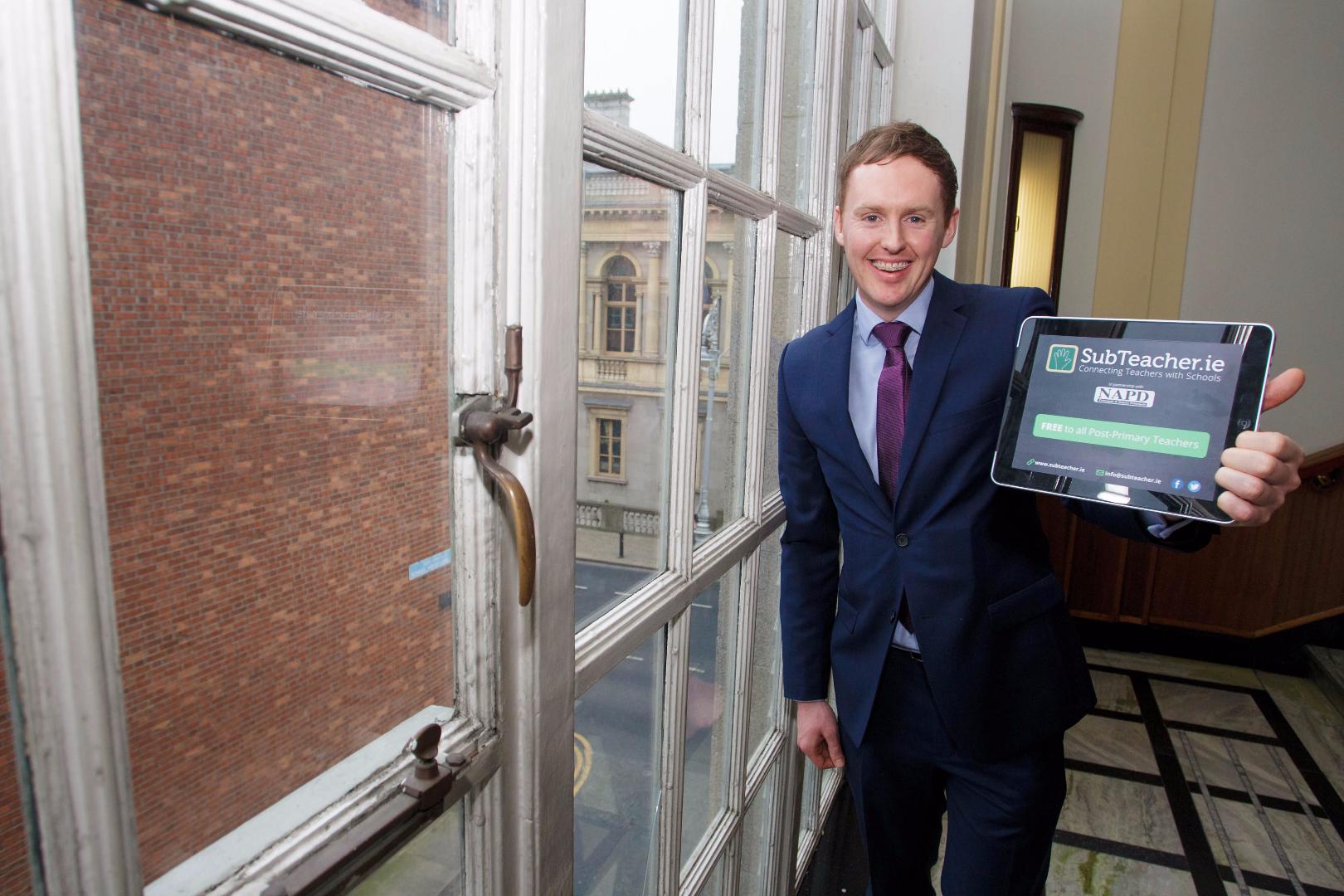 Boyle man Kyle McLoughlin from SubTeacher.ie is photographed at last week's unveiling of the finalists in Ireland's Best Young Entrepreneur Final.
The event took place at Government Buildings.
24 talented entrepreneurs from all over Ireland go head-to-head to claim title of the country's "best young entrepreneur" on Sunday, March 5th at Google's European Headquarters in Dublin..
The Taoiseach, Enda Kenny, T.D., unveiled the inspiring finalists from around the country. Also joining the Taoiseach for the unveiling were Minister for Jobs, Enterprise and Innovation, Mary Mitchell O'Connor T.D. and Minister of State for Employment and Small Business, Pat Breen T.D.
A record 1,842 young entrepreneurs, aged between 18 and 35, have taken part in this year's IBYE. The competition has progressed through county and regional stages where 24 young entrepreneurs have now emerged as national IBYE finalists.
The Taoiseach met the finalists before the young entrepreneurs travelled to a pitch training session at Google. He said:"I am overwhelmed and inspired by the entrepreneurial talent that I have encountered here today.  In this fast-moving world, there can be no standing still and we must always stay ahead of the curve in terms of business. It is vital that we nurture our young businesspeople, encourage them, and give them supports as they strive to make an impact and to succeed."
"We must also be mindful that today's young entrepreneurs are tomorrow's employers. IBYE, which is run by the Local Enterprise Offices, is one of the best innovations arising from the Action Plan for Jobs. While there are now nearly 190,000 people more in employment than when the Action Plan for Jobs was first launched in 2012, we must not be complacent. A lot of work still needs to be done to ensure a bright future for everyone in this country. All the young people I met today are Ireland's future."
A key motivator and showcase for Ireland's young entrepreneurial talent, IBYE is run by the 31 Local Enterprise Offices nationwide and supported by the Department of Jobs, Enterprise and Innovation and Enterprise Ireland. The initiative carries a total investment fund of €2 million. Already, 180 young entrepreneurs and business owners have benefitted from their participation in the earlier stages of the competition, receiving investments of between €3,000 and €15,000 each.
At the National Final, the overall winners and runners-up in the three IBYE categories – Best Business Idea, Best Start-up and Best Established Business will be announced and one of the three national category winners will be crowned 'Ireland's Best Young Entrepreneur'.
A winner and runner-up will be selected in each of the three IBYE categories, and along with the overall winner, will share the €100,000 national final investment fund at the awards ceremony on Sunday, March 5th.