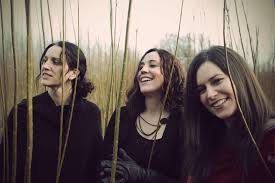 Boyle Arts Festival kicks off in just a few days time, opening on Thursday July 23rd and running until Saturday August 1st. 
(By Brendan McGee)
Getting things off to a great start in the Live Gigs programme, with a very special appearance in the Church of Ireland on Friday July 24th are Frankie Gavin and De Dannan. For many years De Dannan were the forerunners in the Irish traditional music world but after a number of changes to the line-up, original founding member Frankie Gavin unleashed a new line-up which in his own words "will reflect a De Dannan of the 21st century.". This superb current line-up includes the beautiful vocal talents of local singer, Bernadine Casserly. The concert will start at 8pm. Later, at 10pm in Wynne's bar, enjoy an evening of song and stories with local songwriters and poets performing their work. The Boyle Songwriters Collective has always entertained their audiences with their eclectic range. Come along and share the joy! Admission is free.
One of the highlights of this year's Festival will undoubtedly be a performance by up and coming 'Indietronica' band, Columbia Mills. The band, from Bray, Co. Wicklow, have just released their second EP, 'Perfect Day' and their set will include a hedonistic mix of musical textures, reverb saturated guitars, glorious beats & beautiful tragic sounds during a very special concert in Daly's Storehouse on Sat. July 25th. The gig starts at 10pm.
On Sunday July 26th The Cornerboys, a six piece band with a shared passion for American music will surprise you with everything from Honky Tonk to Blues Stomp. Featuring songs from the 1930's to now, this promises to be an eclectic and lively session of music in Daly's Bar at 2pm. Later at 10pm, Mattimoe's bar is the venue for a gig by The Lost Brothers, who band describe musical influences that range from Chuck Berry to Harry Nilsson to Beck, from Ennio Morricone to Jack Nitzsche, from Sweeney's Men to Van Morrison, from Bob Dylan to Lou Reed and Nick Cave.
Join Colin Beggan and friends for an evening of the finest in Bluegrass music during a free gig in Mattimoe's bar on Monday July 27th at 10pm. few. Lead vocalist Colin plays 5 string banjo, guitar and he will be joined by David Knight on guitar and vocals, Tim Kearns on bass and from New York the great Tom Hanway on blistering bluegrass banjo.
The Jazz Ladds are a 5 piece band with Trombone, Tenor Saxophone, Clarinet, Harmonica, Lead Guitars, Bass, Rhythm Guitar, Drums and vocals. They make a welcome return to Boyle with a gig in Clarke's bar on Tuesday July 28th at 10pm.
Wednesday, July 29th is really music night with three super gigs lined up. With shimmering harmonies and delicate musicianship The Henry Girls interweave their traditional roots with contemporary elements, earning them both commercial success and spectacular critical acclaim on both sides of the Atlantic. The Donegal sisters will perform in King House at 8pm. At 10pm, you can choose between two of the finest musicians in the area. David Byrne will play a free gig in An Craoibhín, where you can expect the very best in acoustic cover versions, to get your feet tapping. Also at 10pm, The Tawnytaskin Centre is the venue for an intimate solo performance by local singer/songwriter, Donal O'Connor, who will perform songs from his own eclectic catalogue.
On Thursday July 30th, Teenage Kicks will give an opportunity to celebrate & enjoy emerging young musical talent in our midst. With plenty of variety to keep toes tapping & hands clapping, this event is one that the whole family will enjoy!! More than 15 artists will feature & this event is free to attend! So please come along & show your support in Daly's Storehouse from 7:30pm. Mineral bar only. In Dodd's bar at 10pm, the always popular Boyle Singers will showcase a range of mostly unaccompanied songs from Traditional, Folk, Irish and English origins. The Singers Night will be preceded by a workshop with Niamh Parsons.
Don't miss the Cultural Fusion Evening at Ardcarne on Friday July 31st  at 8pm. Book your table now and enjoy a 3 course meal in the beautiful surroundings of the Cafe at the Ardcarne Garden Centre, accompanied by the sounds of Spain with music from Ocho Punto G, one of the best Latin Bands from Barcelona. Early booking is essential. Bring your own wine! At 10pm, join Paul Emmett and the Urban Cowboys to round off your Friday night with some musical treats with a free gig in the Patrick's Well.
If it's comedy you're after, comedian and author, David O'Doherty, (the Kevin McCloud of the tiny keyboard), is a recipient of the Edinburgh Comedy Award and a regular on UK television shows such as QI, Have I Got News For You, 8 Out of 10 Cats and Would I Lie to You. His shows are a unique combination of talking, and songs about every day observations and mishaps such as the fantastic 'Sent a Text to the Person the Text was About.' Do not miss his appearance in King House on Saturday August 1st. The show starts at 8pm.
This year's film programme features a unique short film compiled by photographer and film maker Darren Purcell. Darren moved to Boyle in 2013 and was quickly bowled over by the beauty of the town and the warm, welcoming nature of its people. 'Boyle – Above & Beyond' is a short film exploring Boyle in a way never done before, with sweeping vistas and spectacular aerial viewpoints.  See it in the King house Auditorium at 4pm on Sat. August 1st. For children, there's also a chance to see 'Paddington' on Friday July 31st at 3pm.
 BAF 2015 winds up with a gig by the Knotty Pine String Band in Daly's Storehouse on Sat. Aug. 1st. The band  have a strong country roots influence with songs from the likes of John Prine, Kris Kristofferson, Steve Goodman and the Nitty Gritty Dirt Band and they also like to take popular songs and give them a Bluegrass twist! A gig not to be missed! Why not stay on afterwards and join DJs from Turn it On, spinning the best of 1980s mixes on vinyl.
Bookings for all events can also be made at the Festival office, next door to Marian's, Bridge St. Boyle. The office is open every day from 11am to 6pm (excluding Sundays) from now until Sat. August 1st. Online booking is also available at www.eventbrite.ie   For more information and our full programme go to www.boylearts.com  Tel. 071 9663085. Email [email protected] or find us on Facebook.
Boyle Arts Festival acknowledges the support of the Arts Council, Local businesses, Roscommon County Council, Foras Eireann and RTE Supporting the Arts.