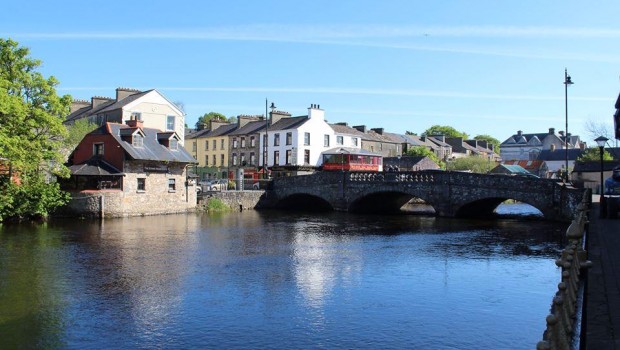 Three heritage projects in Boyle town area have been awarded €14,000 by Minister of State for Heritage and Electoral Reform, Malcolm Noonan TD
they were among 556 heritage projects across every county in the country who will benefit from a total of €4.5m under this year's Built Heritage Investment Scheme (BHIS).
The Boyle projects are:
Glencarne House, Ardcarne, Boyle – Historic window glass conservation/protection – €9,000
Boyle Mill, Mocmoyne, Boyle – Historic window glass conservation/protection – €6,000
Frybrook House, Bridge Street, Boyle – External Fixture Repair – €4,000
Carrigard House, Keelogues, Boyle – Roof repair, structures & coverings including lead work – €4,000
The BHIS is one of two built heritage funding schemes run by the Department of Housing, Local Government and Heritage in association with the 31 Local Authorities. The scheme assists owners of heritage structures – including those on the local authorities' Record of Protected Structures and those in Architectural Conservation Areas – to meet their obligations to care for their properties by providing match-funded grants of up to €15,000 for standard projects (not involving thatch).
The scheme is not limited to private dwellings; it also aids a wide range of other important heritage structures. This year's BHIS includes awards to historic landmarks such as Blackrock Hospice in Dun Laoghaire-Rathdown, Deer Park House in Clare, Castle Oliver in Limerick, and Trinity College in Dublin, as well as historic church buildings, mills, and castles.
Also included under this year's scheme is funding of €500,000 for conservation repairs to eligible historic thatched structures. Grants of up to €20,000 for thatched structures are available through the scheme. Galway County Council, for example, has received €115,000 for 11 thatched structures
Locally Frank Feighan TD has welcomed the funding announced locally for Sligo/Leitrim and Roscommon: "I want to commend Minister Noonan for his generous allocation to so many projects across the region. This funding represents a 12.5% increase on last year's funding and underlines this Government's continuing commitment to protect and preserve our built environment, in line with the goals set out in Heritage Ireland 2030, the new national heritage plan, which was launched by the Minister last year."
In Leitrim €92,278 was granted to the following projects,
| | | |
| --- | --- | --- |
| Summerhaven House | Rainwater goods repair/replacement | € 15,000 |
| Lurganboy Lodge | External wall repair | € 8,690 |
| Railway Goods Store (Killamanima) | Mitigation of damp | €5,825 |
| Mullies Catholic Church | Historic window glass conservation/protection | €11,803 |
| St. Columba's Church of Ireland | External wall repair | €15,000 |
| St. Mary's Catholic Church | Roof repair, structures & coverings including lead work | €13,460 |
| Drumreilly Church of Ireland | Roof repair, structures & coverings including lead work | €15,000 |
| St. James Church of Ireland | Structural stability | €7,500 |
Meanwhile in Sligo €107,006 was granted and the successful projects announced were,
| | | |
| --- | --- | --- |
| Corradoo East, Ballinafad, Boyle, Co Sligo | Thatching | €12,000 |
| Church of St. Fechins & St. Lassara, Ballinacarrow Co. Sligo | Historic window glass conservation/protection | €2,000 |
| St. Marys Presbytery, Temple Street , Sligo | Roof repair, structures & coverings including lead work | €5,000 |
| Temple House, Ballymote, Co. Sligo | Roof repair, structures & coverings including lead work | €6,000 |
| 8 The Mall, Sligo | Historic window glass conservation/protection | €7,000 |
| Glen Lodge, Woodpark, Sligo | Repair and upgrading of historic window shutters | €8,000 |
| Breeouge House, Knocknahur, Co. Sligo | Rainwater goods repair/replacement | €6,000 |
| Calry Parish Church | Temporary stabilisation works | €3,006 |
| Mountshannon House Bundoran Road, Shannon Eighter, Sligo | Roof repair, structures & coverings including lead work | €7,000 |
| 9a The Mall | Interior decorative repair | €7,000 |
| Hazelwood House | Repair and upgrading of historic window shutters | €13,000 |
| 3 Old Market Street | Repair and upgrading of historic window shutters | €6,000 |
| McDonaghs Shop | External joinery repair. Historic window glass conservation/protection. External wall repair.   | €12,000 |
| EJ's Menswear, 11 Gratton Street | Roof repair, structures & coverings including lead work | €13,000 |
Finally in Roscommon €102,984 was awarded for the following schemes,
Thatch House, Carrowphadeen,

Thatching

€2,500

St  John's, Lecarrow,

Thatching

€4,484

Frybrook House, Bridge Street,




Boyle, Co. Roscommon

External Fixture Repair

€4,000

Carrigard House, Kellogues,Boyle, Co. Roscommon

Roof repair, structures & coverings including lead work

€4,000

Church of Ireland Kilmore, Carrick on Shannon, Co Roscommon.

Interior structural repair

€5,000

Ballymoe Railway Station, Cleaboy, Ballintubber, Castlerea, Co. Roscommon

Roof repair, Rainwater goods replacement, Draught proofing windows, doors and other openings

€9,000

Dunferne, Abbey Street,Roscommon,Co Roscommon, 

Draught-proofing of windows, doors and other openings, Interior decorative repair & professional Fees

€4,000

Bank of Ireland, Church Street




Strokestown




Co. Roscommon

Roof repair, structures & coverings including lead work & Rainwater goods repair/replacement

€7,000

Mount Talbot Church, Mount Talbot




Athleague, Co Roscommon

Structural stability, External wall repair

€9,000

Boyle Mill, Mocmoyne, Boyle, Co Roscommon

Historic window glass conservation/protection

€6,000

St Johns Church of Ireland, Church Street, Strokestown, Co Roscommon

Historic window glass conservation/protection

€6,000

Glencarne House, Ardcarne, Carrick-On-Shannon, Co Roscommon 

Historic window glass conservation/protection

€9,000

The Lodge, Abbeytown, Roscommon, Co Roscommon

Interior structural repair & energy efficiency improvements

€3,000