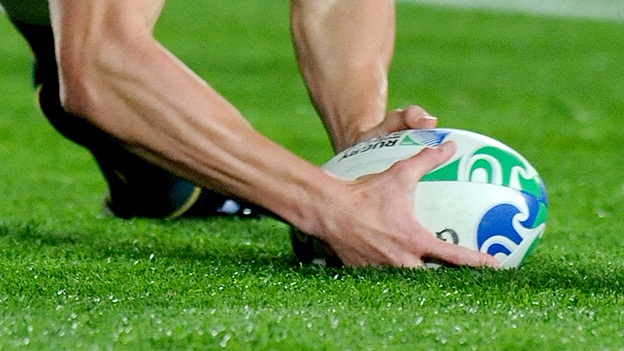 Seniors score 39 – 0 win over Tuam
A home victory for Carrick RFC saw them notch up a scoreline of 37-0 over opponents Tuam RFC in the second leg of the league at the weekend. Despite having a number of players out with injuries the yellow and black jerseys of Carrick were all over the opposition as they took the match with a total of 6 tries.
An early penalty against Tuam saw fly-half Kevin Coffey put the first points of the match up on the board, giving Carrick a 3-0 lead, quickly followed by the first try of the match from team captain Colm McWeeney, taking the scoreline to a healthy 8-0. Cormac O'Keeffe came on soon after to take over from Derek Beirnes at scrum-half, scoring Carrick's second try of the match within moments of coming on to the pitch with another Coffey conversion taking the score up to 15-0.
Carrick's confidence grew along with the scoreline, and when Stephen Guckian came on as a blood substitution shortly before the half-time whistle, he took full advantage of a scrappy lineout ball from Tuam, bursting through the back line to run the ball 70 metres down the pitch to score try number three for Carrick, sending them into the second half on a 20-0 lead.
The second half of the match brought more of the same for Carrick, with two successive tries from second row player Dermot Foley and Michael Martin converting to bring the score up to an impressive 32-0. Tuam tried in vain to hold Carrick off but following some incredible interplay between the backs, Will Weaver at 12 broke through to score the final try of the match, giving Carrick a final scoreline of 37-0.
With some serious commitment to training over recent weeks, the Carrick side are now starting to reap the rewards for their efforts and will be looking forward to their next league commitment against Connemara in two weeks' time. New members are always welcome and anyone interested in joining the club should contact the club captain on 086 823 8795.
Irish Wheelchair Association Angel Day Nov 6th
Carrick on Shannon Minis are asking coaches and parents to support the IWA Angel day on November 6th. The IWA are looking for volunteers to sell pins locally on November 5th and 6th. If interested please contact IWA on 071 9620569.
Pins will be available for purchase at minis and youths training sessions on Saturday Nov 7th and Sunday Nov 8th.
IRFU Your Club Your Country
Carrick RFC would like to thanks all players and supporters who recently purchased tickets in the IRFU "Your Club Your Country" nationwide draw. All the money collected from ticket sales goes directly to the club selling the tickets.
Upcoming fixtures
What better way to spend a Sunday morning / afternoon than supporting your local Carrick RFC Senior and Youths teams. All home matches take place at Carrick RFC pitch in Castlecarra and entry is free of charge.
Keep up to date on all news and fixtures by visiting CRFC website – www.carrickrugbyclub.ie