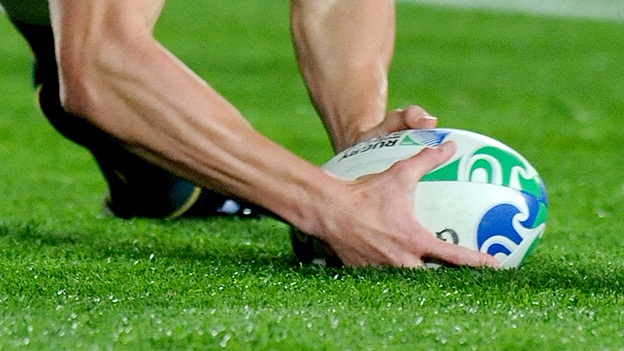 U14's travel to the Blacksod Peninsula and secure 43 -5 win over Erris RFC
Carrick U14s travelled west to the windswept Blacksod Peninsula to play Erris RFC on Sunday November 22nd. Conditions on the day were dry but the cold breeze tested the players and spectators alike.
The first quarter of the game was tit for tat with neither side able to dominate or create any scoring chances. As the second quarter got under way Carrick scored a breakaway try by J. Honeyman with A. Shortt adding the conversion. Erris hit back almost immediately with some excellent running going over in the corner for a try. The Carrick forwards now started to dominate the scrum and line outs, providing a base for the back line to open up the Erris defence. Another Carrick try before half time left Carrick leading by 12 – 5 at the interval.
In the second half the game opened up creating opportunities for both teams but Carrick use of rolling subs help them make the most of their chances running in an additional 5 tries. Erris pressed hard testing the Carrick defence regularly but they were unable to break down the Carrick defence allowing Carrick to win the fixture 43 -5.
Carrick U14 coaches would like to thank Erris RFC for their post match hospitality and the parents and supporters who made the long journey west.
Scorers for Carrick: Tries E. Coyle, A. Maziya, J. Honeyman, P. Lenehan, A. Shortt Conversions: A. Shortt
Tommy Bowe to visit on Saturday November 28th
Recently Jason Roddy (Carrick RFC Senior Player) won "Training session with SUBWAY® Famous Fan competition," Of the many fabulous prizes that Jason won for the club, the one that no doubt will attract most attention is the training session for the Carrick Senior Rugby team with Ireland International and Ulster winger Tommy Bowe.
Tommy will arrive at Carrick RFC on Saturday November 28th at approximately 11;00 where he will be greeted by the Carrick Senior men's team. Between 11:00 and 12:30 Tommy will host a Q&A session, host a Nutrition talk and be available for selfies and signing of autographs. The training session will take place between 12:30 and 14:00, this session will be hosted by Tommy with the support of some of his coaches. Tommy is scheduled to leave around 13:00.
The training session will finish up with lunch for the team supported by Subway Carrick on Shannon.
CRFC Minis First Home Blitz of the Season
Last Saturday, 21st of November 2015, Carrick Minis held their first Home Blitz this season against visiting team, Buccaneers, from Athlone RFC.
With all the preparations in place, the Buccaneer Minis, with their parents and Coaches, arrived at Carrick's home ground at Keenaghan, for a 10:30 am kick off.  It was a cold and damp morning but the rain held off and the rugby started with teams from under 8s to under 12s playing on probably the driest pitch in Connacht (and the club's training ground as well).
With approximately 170, under 12 year olds, from both clubs playing their games in their respective age groups, it was again, a fabulous morning of rugby.  Both clubs had great wins and losses in the various games but each benefitted from game play and competitive matches to test their player's rugby skills and decision making.
When the rugby was finished, both clubs retired to the excellent facilities of the IWCA where the Carrick Under 12's parents did a fantastic job catering for all the players, their parents and the Coaches from both sides. A special thank you to the parents who looked after car parking and cleaning and to all the parents who brought food beforehand.  It was a great success both on and off the field.  The Buccaneer Coaches wished to convey their appreciation for an excellently organised Blitz and are looking forward to the return leg in Athlone.
Training continues next Saturday at 10:30 am in preparation for our next away Blitz in Cavan on Saturday the 12th of December.
If you would like your child to be part of a great team and a great club, to be active, become tough and disciplined and have fun, whilst learning how to play a popular, universal sport, then please call or text Aidan on 086 3867960 or you can email:[email protected]
Carrick RFC News and Fixtures updates
What better way to spend a Sunday morning / afternoon than supporting your local Carrick RFC Senior and Youths teams. All home matches take place at Carrick RFC pitch in Castlecarra and entry is free of charge.
Keep up to date on all news and fixtures by visiting CRFC website – www.carrickrugbyclub.ie , or follow us on Facebook and/or Twitter.