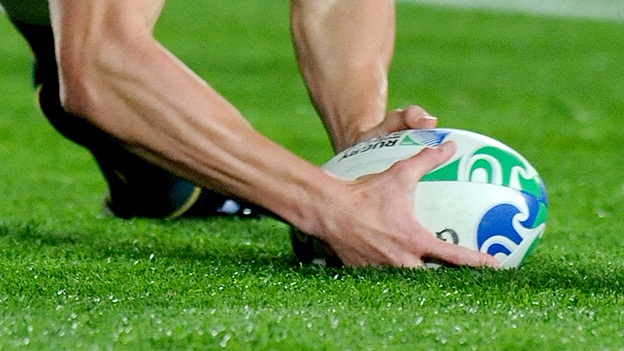 On Saturday November 28th Tommy Bowe visited Carrick RFC training ground as part of a prize won by senior player Jason Roddy and sponsored by Subway.
The wintery conditions did not deter the Carrick RFC Minis players from turning up to training or taking the opportunity to meet one Irelands rugby stars.
During his visit Tommy took the opportunity to meet with all the minis teams, posing and answering questions, signing autographs and posing for individual and group pictures.
Later Tommy got down to the main business of the day – hosting a training session with the men's senior team.
Starting with a questions and answer session Tommy talked about the things that are important in sport and in life in general, physical fitness, importance of friendships on and off the field, team spirit, leaders and leadership and being in a positive state of mind no matter what the score line is.
Due to Tommy's injury he was unable to host the physical training session and had delegated this to Munster Women's Senior coach Wayne Falvey.
Wayne put the senior team through their paces for over an hour, with both Wayne and Tommy discussing game management, player positioning, communication and commitment.
Our thanks go to Tommy, Wayne and Subway for providing us with excellent morning of rugby.
Carrick RFC Senior Men maintain home record
Carrick FRC Seniors continued their unbeaten home run at the weekend with another league victory against opponents Westport RFC. The Leitrim side had a convincing victory against their Mayo opponents with a 21-10 win.
Adding to his recent GAA successes Dermot Foley, scored the team's first try of the match within 5 minutes of the starting whistle, with a successful conversion giving the club an early 7-0 lead. The Westport side put up a strong battle, but another try from flanker Justin Farrell put Carrick ahead by 14 points with a conversion from Coffey.
Although Westport managed a try ahead of half-time, they were unable to convert, leaving Carrick with a 14-5 point lead going into the second half. Poor weather conditions resulted in some scrappy play and another try for Westport, but the Mayo defence were unable to hold back the Carrick players, and a last minute try from Sean Hynes, once more converted by Kevin Coffey, gave the team an impressive 21-10 score at the final whistle.
The club welcomes back Noel McDermott from his recent GAA season successes. Training continues ahead of next week's away match against Connemara in Clifden.
Anyone interested in joining the club should contact the captain on 086 823 8795 for details.
Carrick RFC News and Fixtures updates
What better way to spend a Sunday morning / afternoon than supporting your local Carrick RFC Senior and Youths teams. All home matches take place at Carrick RFC pitch in Castlecarra and entry is free of charge.
Keep up to date on all news and fixtures by visiting CRFC website – www.carrickrugbyclub.ie , or follow us on Facebook and/or Twitter.