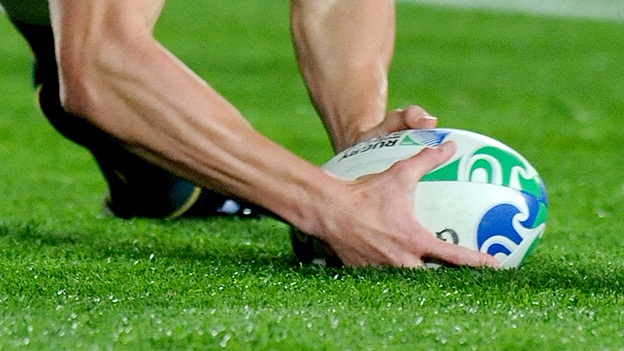 Minis travel to Cavan RFC Minis Blitz ( A. Lenehan)
Last Saturday, Carrick Minis travelled to Cavan for their first venture of 2016.  After having not played or trained for 3 weeks, there was a respectable turnout of players for their first blitz in a while.  With the Cavan pitch rested over the Christmas, the pitch was in good condition considering the amount of rainfall nationally.  The players met in Cavan's clubhouse and divided into their respective squads.  With Cavan having larger numbers of players, some squads were made up from Carrick and Cavan players.  Other Carrick squads were able to manage with their numbers and continued with their games.
The journey to Cavan was worth it and Carrick Minis had a great morning of rugby.  As usual, there were great displays of skill and courage from both teams and there was plenty of moral support from the side lines.  With the season getting busy with home and away blitzes, ahead of the Connacht Blitzes in March, our players will develop their rugby with every training session and game they play.  Thank you to all those players and parents who braved the elements and travelled to Cavan to support their team mates and Club.  Each team needs every player to play their part in order to compete and win.
Training continues as usual next Saturday for our next Blitz at home with Cregg's on Saturday 23/01/2016.
Convincing win for Seniors against Enniskillen RFC ( S. Weaver)
Carrick RFC seniors travelled to Enniskillen at the weekend for a mid-season friendly against Enniskillen RFC.  With some important league fixtures facing the club over the next few weeks, the 24-5 result helped to maintain the momentum that has been building within the senior team since the start of the season.
The Enniskillen side defended their line well into the first half, and twenty minutes of play passed before Carrick were in a position to break through to score the first try of the match, with flanker Dermot Foley breaching the Northerners' defence and racing away to touch down.
This was soon followed by a second try from Adrian McKeon, with a successful conversion bringing the score line to 12-0 in Carrick's favour.  Carrick's third try came once again from Foley, meaning that Carrick ended the first half of play with a 17-0 lead.
Enniskillen came back fighting after the break to take their first try of the match, taking the score to 17-5 after they failed to make the conversion.  Not content to let the match end on this note, Carrick added further pressure in the Enniskillen half before Dermot Foley broke through the defence once again and crossed the line to complete his hat-trick. The conversion brought the final score to 24-5.
Carrick will continue their league campaign with an away match in Ballina at the weekend.
Carrick RFC News and Fixtures updates
What better way to spend a Sunday morning / afternoon than supporting your local Carrick RFC Senior and Youths teams. All home matches take place at Carrick RFC pitch in Castlecarra and entry is free of charge.
Keep up to date on all news and fixtures by visiting CRFC website – www.carrickrugbyclub.ie , or follow us on Facebook and/or Twitter.