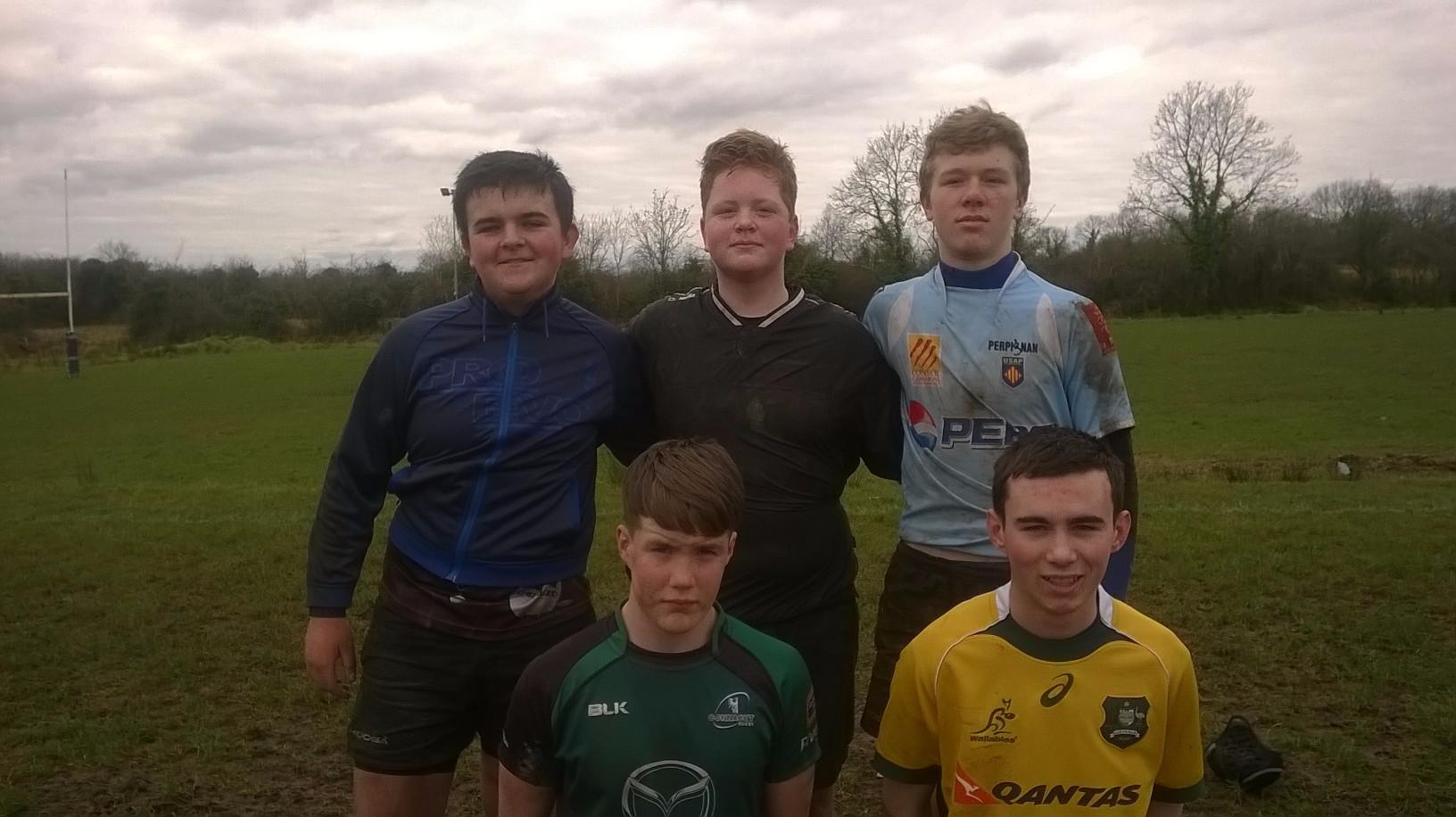 Youths in Connacht development squad. (S. King)
We have all heard of Robbie Henshaw and how he has hit on great things with Connacht and Ireland and now on the move to Leinster  at the end of season. This is sad news for Connacht .But he good news is that there is more new fresh ,untapped and local talent coming in to replace this huge talent that has now left us.
Where does it start? Believe it or not we have started our production line here in Carrick On Shannon RFC with five lads are now part and parcel of a Connacht U-15 development squad, mixing and matching with the best from other clubs in Connacht. Once they had to check the map where we were now they check to see how much we can help them along.
Eric Elwood and later Pat Lam have brought a great "local" element to the Connacht set up and this is now feeding in to Joe Schmidt s Ireland team .Yes it all seems very pale that someone from Carrick RFC will play for Connacht or Ireland but we have now got Carrick RFC in a position where we can send lads and ladies to represent us at any level. Our own Shane Layden representing us at Ireland 7 a side level at the moment.
This is a great testimony to the coaches that have worked so hard down through the years, some still with us ,some now departed. The great thing is that we can never stand still and what we want to do is harness the huge talent and potential that is here in Carrick RFC and bring it forward to a higher stage.
With all this said all we can we can say is best of luck to James Óg, Robin, Paul, Cathal and Matthew and the all the lads making the huge commitment that is getting them across the finish line. We know that ye can and will do it.
U11's travel to Buccaneers for Connacht Blitz (C. McAuley)
Carrick U11 team participated in the Connacht U 11 Blitz in Athlone on Saturday. They played four games in total. The first game was against Ballina A and Carrick were slow to get started however came back strong in the second half. Next up was Loughrea and the Carrick team had a excellent performance which resulted in a well deserved win.
The last 2 games against Ballinasloe and Corinthians A were very tough encounters  for our squad who had very fast turnarounds between the games. Overall it was a excellent team performance in all four games and the team made the coaches and parents very proud . The event was very well organised by Buccaneers and the children had a great day which was followed up with a great win by Ireland.
66 days till Tag Rugby kicks off ( M. Nee)
Carrick RFC annual Tag Tournament will kick off in the next few months and what better way to spend the summer than playing sport, having fun, making new friends, socialising and possibly getting a taste of sport that you will continue to enjoy over the winter months. Tag rugby is a non-contact sport that can be enjoyed by all ages and all fitness levels. Keep an eye on our website for updates.
Ladies News ( M. Clerkin)
Carrick ladies team continue to develop their squad and prepare for upcoming challenge matches. Training takes place each Thursday night at 7.30PM in Castlecarra.
New members are always welcome to come along and try it out. For further details contact Michelle on 087 1337212
Deepest Sympathy
Carrick RFC would like to extend their deepest sympathies to the family of the late David Dunne who died recently.
RFC News and Fixtures updates
Carrick Seniors play NUIG away in their final league match of the season.
What better way to spend a Sunday morning / afternoon than supporting your local Carrick RFC Senior and Youths teams. All home matches take place at Carrick RFC pitch in Castlecarra and entry is free of charge.
Keep up to date on all news and fixtures by visiting CRFC website – www.carrickrugbyclub.ie , or follow us on Facebook and/or Twitter or Ultimate Rugby app.
Pictured are the U15 players who are part of the Connacht development squad. 
Back Row L-R Cathal Gormley,  James Óg Maguire, Robin Weaver Front L-R  Matthew Earley, Paul Woods