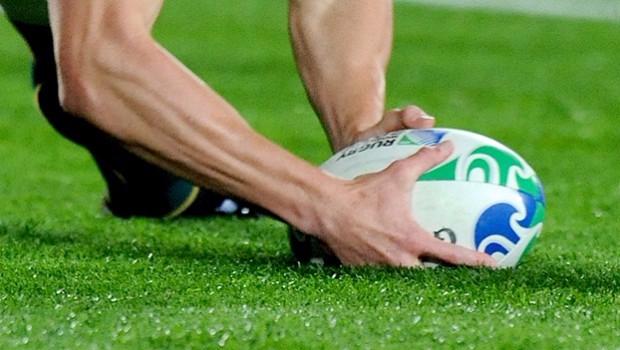 U15's go down to Ballina in Plate Competition (S. King)
Carrick and Ballina came toe to toe for the second time in nearly as many weeks, this time in the plate competition. The visitors again showing their division 1 status would get them across the line But not before a depleted Carrick squad gave them a severe test.
While the scoreline showed a large gap between the teams, what transpired on the pitch left them even enough but Carrick leaked two trys against the run of play which gave Ballina more of a cushion than they should have had. With a depleted squad of 16 luck wasn't shining when Liam Taylor was forced off with an arm injury and debutant Brian Hannon forced into the fray. Half time score 17-3.
The second half saw the two teams go at each other and Ballina would score another 2 trys but this wouldn't acknowledge the huge committed and dedicated performance that Carrick put in and with luck totally deserting them we saw them cross the line and knock on and on other occasions been bundled into touch just on the try line. Most of the second half was played in the Ballina half testament to the Carrick effort.
While these two defeats to Ballina have been hard to take it shows that Carrick as a development league team have narrowed the gap on division 1 opposition and that through more hard work like these lads have already put in we can compete with any opposition.
The season is now near an end and with a few league games left this team can still make a play off for honours.
Squad 1 James Óg McGuire. 2 Liam Phelan. 3 Ashley Maziya. 4 Kevin Brady. 5 Cathal Gormley. 6 Liam Taylor. 7 Brian King. 8 Robin Weaver. 9 Alan Crowe. 10 Jack Aldridge. 11Francis Mc Govern. 12 Paul Woods. 13 Matthew Earley. 14 Tom McKeon 15 Sean Lenehan. 16 Brian Hannon.
Referee :Dave Layden (Connacht branch)
The team and coaches would like to wish Liam Taylor a quick recovery from the injury he received during the game on Sunday.
Minis Rugby ( M. Nee)
Another season of minis rugby training has come to an end, and what a season. Carrick RFC continue to see the number of players increasing in all age groups as the sport becomes more popular following the recent rugby world cup and the success of the Connacht senior squad. The increase in numbers allows Carrick to participate in blitz's in all age groups from U8 right through to U12.
U8 and U9's have their Connacht blitz in the coming weeks and the U10 squad could end the season playing in the Aviva Stadium at the end of April if they are successful in an upcoming blitz in Ballina.
Our thanks to parents for supporting the players during the long winter, the coaches for being there each Saturday to train the players and in particular to Aidan and Maeve for tackling the massive work load associated with being mini's coordinators.
We hope all our players have a great summer as they start back to summer sports and we look forward to seeing all existing players and many new players next season.
Ladies Rugby ( M. Clerkin)
Carrick ladies team continue to develop their squad and prepare for upcoming challenge matches. Training takes place each Thursday night at 7.30pm in Castlecarra.
New members are always welcome to come along and try it out. For further details contact Michelle on 087 1337212
Deepest sympathy
Carrick RFC would like to extend their deepest sympathies to the Weaver family following the recent passing of Samantha's mother Thelma Crossley.
Carrick RFC News and Fixtures updates
What better way to spend a Sunday morning / afternoon than supporting your local Carrick RFC Senior and Youths teams. All home matches take place at Carrick RFC pitch in Castlecarra and entry is free of charge.
Keep up to date on all news and fixtures by visiting CRFC website – www.carrickrugbyclub.ie , or follow us on Facebook and/or Twitter or Ultimate Rugby app.