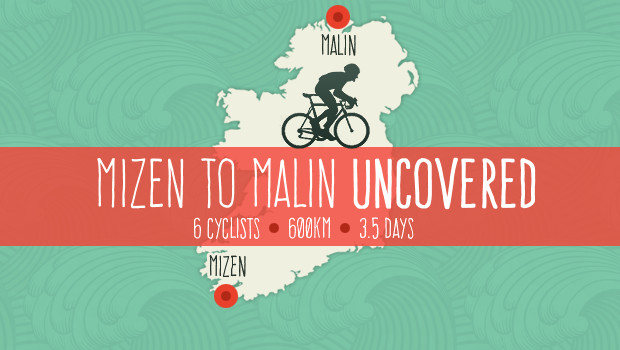 Boyle cyclist Eddie Conroy along with five others and their backup man Oliver Donagher will cycle from Mizen Head to Malin Head in 3.5 days, starting tomorrow. In this, the first of six special blogs, Eddie outlines how he got roped into the challenge and what lies ahead. Log on each day to the "Cycling" section of Boyletoday.com to find out how the "Boyle Six" are surviving the challenge – and each other!
Trepidation and Terror – We're ready for the off
It's the eve of this challenge, to cycle the length of Ireland, from Mizen Head in the far south, to Malin Headat the tip of Donegal, in 3.5 days. It rolls off the tongue like it's nothing. I fear, it is much more indeed.
When Enda Madden brought up this subject, I think it was over the Christmas and I was in the throes of the season of goodwill. You all know that time of year, when you're feeling positive and a little bit cavalier. It was this cavalier attitude which would see me snared, blinded by drink, too foolhardy to see it coming and inevitably, signed up.
Enda approaches silently, stealthily, like a cheetah, watching, waiting, knowing the precise moment to strike. He waited and waited for that perfect tipping point, where I was drunk enough to agree to possibly anything that sounded like a challenge, but not so much as to feign a loss of memory. "Brian and a few lads are thinking of cycling from Mizen to Malin, would you be on for it?" – quipped he. "Sure how hard could it be", said the lamb in reply. What happens next is back to the cheetah analogy. He accelerates with blistering speed and the next thing you know, you're booked into three hotels, he's sorted a van and you're in a group photograph outside Cooney Motors.
Can't back out now.
On a very positive note, we will have great company with us. Five great characters join Enda and I. They will feature heavily in the daily blogs and hopefully provide many light hearted moments to numb the pain from the legs. Brian McMahon, Martin Lannon, Seanie Brennan and Brian Nerney will join us on the road with 2 wheels (each). Our main man, indeed our only man, Oliver Donagher, will have four wheels and takes the roll of driver, roadie, mechanic, medic, fitter, broom wagon, psychologist and our only link to the real world.
My old friend, Peter Noone is going to collect us in Malin Head on Sunday courtesy of Cooney Motors. I don't think I'll ever have been so happy to see his mug shot, come over the horizon.
"Learn to ride a bicycle. You will not regret it if you live." Mark Twain, American author and humourist