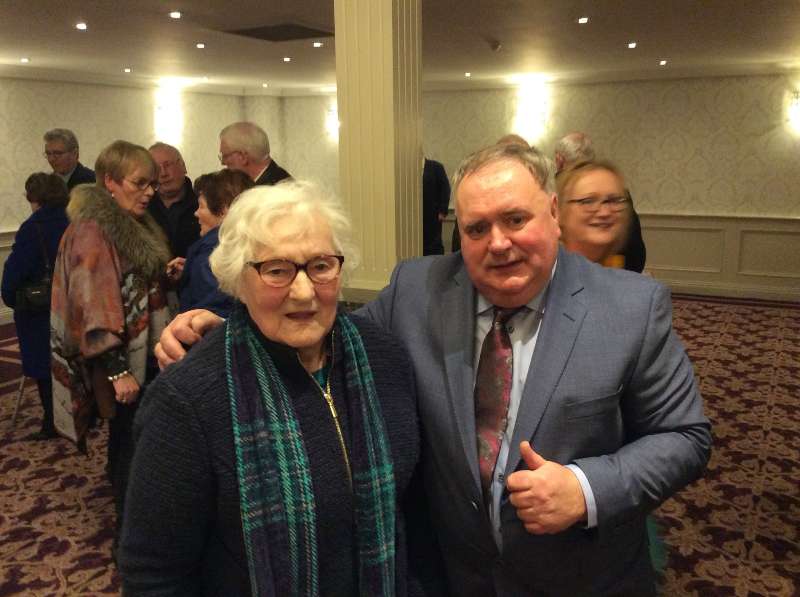 Fianna Fáil TD for Roscommon/Galway Eugene Murphy received a standing ovation at the FF selection convention in the Abbey Hotel, Roscommon on Friday night when he was unanimously selected and ratified to be the single candidate for the party in the constituency.
In advance, Fianna Fáil headquarters had issued a directive that only one candidate was to be selected and, after the three other candidates who initially accepted nominations withdrew, the sitting TD Deputy Murphy was unopposed. Despite the fact that it was a non-voting convention upwards on 200 people turned out in the Abbey Hotel on Friday night with Mayo TD Dara Calleary acting as chairman.
Deputy Eugene Murphy said that he was "delighted and humbled" to be selected and he was very appreciative of the delegates who had turned out in force despite the fact that it was a non-voting convention. "The fact that such a large crowd turned out augers well for the organisation and I am glad to be over this hurdle," said Deputy Murphy.
Addressing issues in the constituency, Deputy Murphy said the Government's National Broadband Plan has descended into a farcical shambles after Eir has decided to withdraw from the process leaving just Enet left as the sole bidder.

"There are families, farmers and businesses throughout Roscommon/Galway who are extremely worried that they will never get the broadband they need. Farmers are required to complete more of their applications for schemes online but it's impossible if they don't have broadband," said Deputy Murphy. He also hit out at the amount of IDA land lying idle in Roscommon and Galway and said that the government was not prioritising balanced regional development.
He highlighted the fact that Ballinasloe has lost 3,500 jobs over the past decade, which is says is a disgrace and he said Fianna Fáil would strive to bring jobs to the regions.
Deputy Murphy highlighted the fact that 700 people a day from County Roscommon leave their homes and travel to work in Dublin on a daily basis due to a lack of employment options in rural Ireland.
As Fianna Fáil spokesman for flood relief, he also highlighted the fact that not one cent of funding has come to this region for major flood-defence work over the past seven years. "It's scandalous to think that between 2011 and 2017 there was a €53 million underspend in flood defences with no major flood defences works being carried out in Co Roscommon over the past seven years and despite the incredible damage caused in the county in 2015 and 2016. There are so many things that could be done to prevent ongoing flooding, but it's not being done," he said.
Concluding, Deputy Murphy  said that in last election in this constituency, Fianna Fáil was 2,200 votes short of a quota. He called on everybody in the party to fight for the 'third seat' in the constituency. "There are 800 party members in this region so if each of them encouraged ten people to vote for Fianna Fáil – then that would result in 8,000 votes in the election. If you bring one message home tonight– let that be it- this is achievable if we all work together," said Deputy Murphy.
Mayo TD Dara Calleary said this country needs a Fianna Fáil-led government and that Eugene Murphy can help achieve that. He said this government is very good at spin, saying it can provide €5m for a communications unit, but not for the Rosalie unit in Castlerea.
The three candidates who withdrew – south Roscommon councillor John Keogh, Ballinasloe councillor Michael Connolly and Ballintubber's Seán Óg Higgins also addressed the gathering.
Deputy Eugene Murphy pictured with his mother Margaret after he was ratified as the single candidate to represent Fianna Fáil in the Roscommon/Galway constituency.