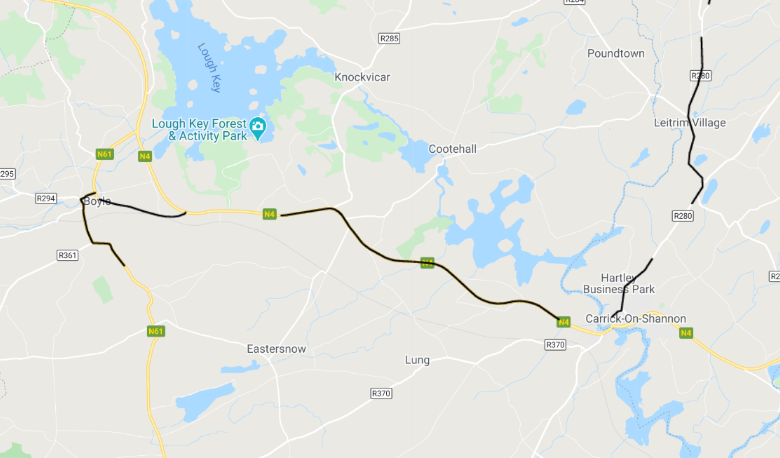 A number of areas in Boyle are included in the 903 new safety camera zones that came into effect from 06:00 on Monday 17th February.
There are now a total of 1,322 safety camera zones nationwide
In Boyle town the zones are:
R294 from Christ the King junction to the N4 junction at Erris
The N61 from Boyle Golf Club north, through the town of Boyle to Boyle Abbey
The N4 from Grevisk to just west of Cortober in Carrick on Shannon
These sections of the road network around Boyle are where An Garda Síochána will be primarily focussing enforcement using a range of equipment such as:
Handheld and tripod mounted laser guns
Vehicle mounted Puma speed detection equipment, (both marked and unmarked vehicles)
Van mounted automatic speed detection radars (Garda operated)
Van mounted Go-Safe vans (civilian operated).
It would appear from the interactive map here that the R361 Boyle to Breedogue/Frenchpark road is no longer included in the safety camera zone, despite the camera signs still in existence on the road.  An Garda Siochana have said "575 safety camera zones have been removed following a review". It is not yet known if that includes the R361 section.
Safety cameras operate in areas where there is a history of speed related collisions, known as speed enforcement zones, using a fleet of marked vehicles. Road deaths have decreased from 415 in 2000 to 148 in 2019. This shows a dramatic reduction in terms of risk and a huge increase in terms of road safety. All zones are available on the Garda website and available for GPS Navigation providers such as Garmin, TomTom, Google Maps or Waze to download.