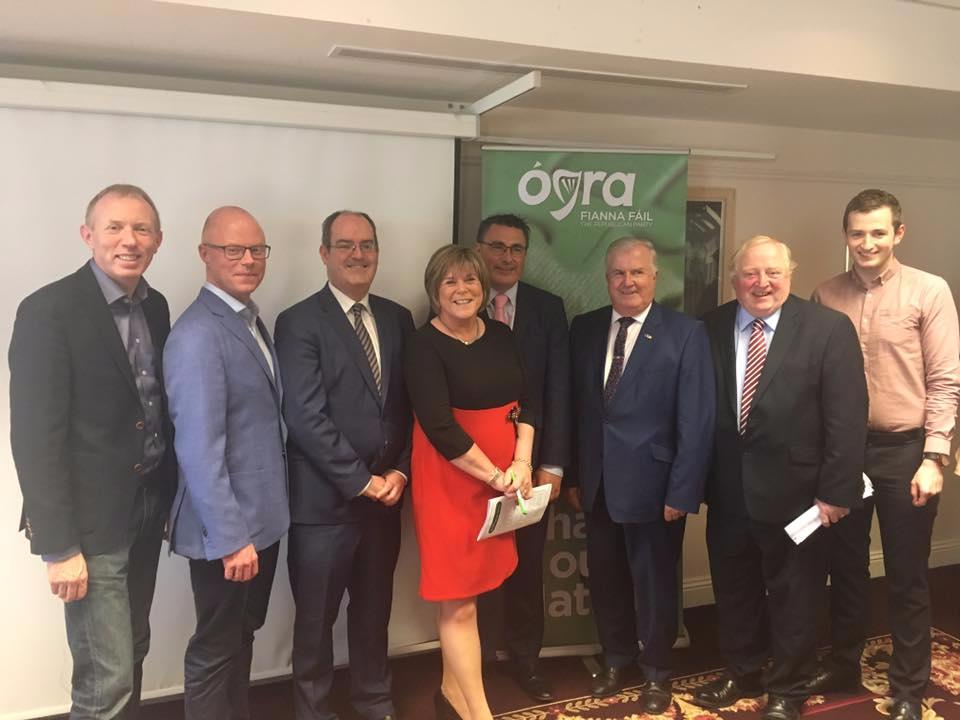 Last Saturday Fianna Fáil members and members of the public from all over the country gathered in the Abbey Hotel, Roscommon, for the first Ógra Fianna Fáil Regional Conference. The Conference organised by Ballinasloe native and Ógra Connacht/Ulster Organiser Tom Cahill dealt with the topic of Reviving Rural Communities.
Some big political names spoke at the conference including former Minister for Community, Rural and Gaeltacht Affairs Éamon Ó Cuív, Fianna Fáil Brexit spokesperson Stephen Donnelly, Deputies Anne Rabbitte, Eamon Scanlon, Timmy Dooley, Mary Butler, Eugene Murphy, Senators Terry Leydon and Mark Daly, and Councillors Keith Henry and Orla Leydon.
Panellists and attendees discussed the Challenges of Brexit, the Challenges Facing Rural Towns as well as Bringing Life Back to Our Countryside. Those at the Conference could sense the enthusiasm from the members to discuss these topics with members of the Parliamentary Party. There was no shortage of volunteers to stand up and give their opinions with most of the Panels running overtime as ending short such quality discussion would have been borderline criminal.
Uachtarán Ógra James Doyle travelled to the event from Dublin and he said that the event is one of the highlights of his term; "Sometimes in political circles we are prone to wearing out superlatives to describe events, but the Ógra Regional Conference was one of the highlights of my presidency so far. Discussions were of the highest quality and it was refreshing to have input from members both young and old."
Roscommon-Galway TD Eugene Murphy opened the conference and he spoke of the uniqueness of the conference in that it aims to highlight the positives or rural Ireland rather than create a bleak picture "This was the first event of its kind and I'm delighted Tom brought it to Roscommon. The event is of extra importance as it deals with all that rural Ireland has to offer, rather than paint a bleak picture of it. It's important that we do do highlight and celebrate the positives of rural Ireland – the wonderful community spirit and quality of life which living in a county such as Roscommon can bring- We also need to emphasis and build on our strengths. We need to maximise the potential of all the assets we do have in rural Ireland and look at how tourism can play a major role in our future. Roscommon has some beautiful unspoilt countryside and some wonderful attractions such as Boyle Abbey, Lough Key Forest Park or Roscommon Castle for example but unfortunately we don't receive the same level of tourism marketing that some other counties enjoy."
The biggest applause of the day was for Éamon Ó Cuív who gave a characteristically passionate and informative speech to the conference about wanting Rural Ireland to have its fair share "The people in rural Ireland aren't asking for special treatment, they just want their fair share, and it's about time they got it. Given the choice, people would prefer to live in the countryside, so why don't we help make that a possibility for people."
Organiser Tom Cahill said that he was delighted with how the conference went: "When I got elected to this role at the National Youth Conference last November, one of the commitments I made was to hold a Regional event during my term, and so I'm delighted that it has happened, and even more delighted that the Conference was so well supported by our members! Engagement between members has been an overarching theme of my term. Fianna Fáil built its success from community level co-operation and that's what I've been working on and encouraging during my time on the Central Officer Board."
Pictured from L to R: Timmy Dooley, Stephen Donnnelly,Gerry Horkan, Mary Butler, Keith Swanick, Terry Leydon, Eamon Scanlon and Keith Henry.