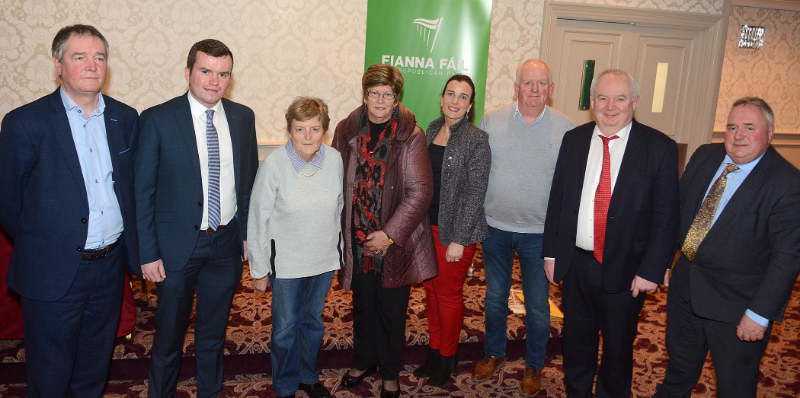 In excess of 100 people turned out at the Fianna Fáil Roscommon/Galway CDC in the Abbey Hotel on Monday night and endorsed the original decision of the AGM by re-confirming Padraig Burke as Chairman and Mary Clifford as Secretary.
The meeting was overseen by Andrew Finn, membership officer of Fianna Fáil HQ and the first part of the meeting was chaired by Larry Brennan.
Following the recent AGM one letter of complaint had been lodged with Fianna Fáil HQ and HQ subsequently decided to reconvene the election of the position of chair and secretary. On Monday night both P. Burke and Mary Clifford were unanimously endorsed and this was accepted by Fianna Fáil HQ.
Chairman P. Burke then permitted a discussion from the floor in relation to the forthcoming selection conventions for Fianna Fáil. Concern was expressed from the floor in relation to the number of candidates being directed by HQ to be selected in the various conventions with only one candidate being directed for selection in South Roscommon and two in Mid Roscommon. A number of sitting councillors and candidates expressed concern in relation to this issue and it was directed that this message should be conveyed back to headquarters.
Tributes were also paid to Cllr Rachel Doherty who recently announced that she was stepping down from politics and would not be contesting the forthcoming local elections. Senator Terry Leyden said that Cllr Doherty would be a major loss to the party while Chairman P. Burke and Secretary Mary Clifford also echoed those sentiments.
Chairman P. Burke said he was delighted to accept the position of chairman and he wished all the best to his fellow committee members including Vice Chairman, Patsy Feehily; Assistant Secretary, Michelle Meeley; Joint Treasurers Mary Pettit and Malachy Hand; PRO Mairead O' Shea; President Tom Hussey and Vice President Paul Lynch. Mr Burke said he was looking forward to the committee working together as a united team in the year ahead and he planned to build up the Fianna Fáil party in Roscommon/Galway.
Mary Clifford thanked everyone for their endorsement while she also received a round of applause in recognition of being the recent overall winner of the Volunteer of the Year Award in County Roscommon.
Deputy Eugene Murphy said he was extremely satisfied that the meeting had endorsed the committee which had been selected at the original AGM which he had chaired and he thanked everyone present. Deputy Murphy said it was great to see such a large turnout and he was delighted with the progress which Fianna Fáil was making in Roscommon/Galway and he stressed the need for unity of purpose.
"Every phone call or email or person who walks into my constituency office is entitled to be listened to and it is my job as servant of the people to do that. Fianna Fáil is in a healthy position in Roscommon/Galway and we need that in order to hold onto and deliver this seat once again for the party," concluded Deputy Murphy.
Photo Caption;  Members of the executive committee of the Fianna Fáil Roscommon/Galway CDC l-r: Chairman P. Burke, Joint Treasurer Malachy Hand, Secretary Mary Clifford, Joint Treasurer Mary Pettit, PRO Mairead O'Shea and Vice Chairman, Patsy Feehily while also pictured is Larry Brennan and Deputy Eugene Murphy. Pic. Mick McCormack