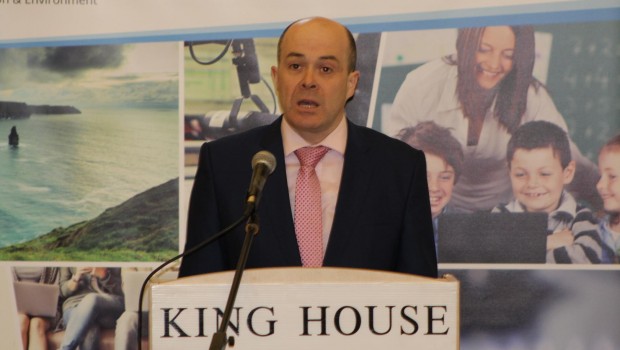 Denis Naughten has announced that he will not contest the next General Election, which is due in 2025.
Commenting on his decision, Deputy Naughten said: I have decided, for both personal and professional reasons, after giving 26 years of my life to national politics that now is the time to step back and explore new opportunities.
I want to thank the people of counties Longford, Leitrim, Galway and Roscommon most sincerely for their support over the last quarter of a century. It has truly been an honour to represent the people from those counties in Dáil Éireann over that time.
I want to particularly thank the many people who canvassed for me over the years, some of whom had previously canvassed for my later father Liam.
I want to sincerely thank all the staff who have worked with me over the years, and I want to particularly mention Deirdre Concannon & Jill Mellor and also my family for their support over those years, which at times were very difficult and challenging.
I entered politics at a young age, in difficult circumstances, and it was always my intention to turn my hand to something outside politics. The time has now come for that to happen and to provide an opportunity for others to represent the people of this area in Dáil Éireann.
I provided support to the Government as an Independent TD at a time when political stability was required, representing my country at international level as Minister, furthering our collective national ambition towards a lower carbon society by imaginative and progressive policies on behalf of all our people.
Since my initial election I have fought tirelessly for the improvement and delivery of our health services at both local and national level. Whilst protecting our local services was a condition of my support for the Government, the establishment of an all-party Committee on Health – which produced the first Sláintecare report, and which was the genesis of our current pathway – I believe will ultimately prove to be a key turning point in the delivery of a proper and responsive healthcare system in Ireland.
My achievement in ensuring the delivery of fibre optic broadband to every home in Ireland, something that I had worked on for over 15 years, is something that I regard as a significant step in improving access to the people of all local communities in Ireland that I was honoured to represent and serve."
Meanwhile, Sligo Leitrim Fine Gael TD has paid tribute to his former constituency and party colleague, Denis Naughton TD.
"I was honoured to be elected to Seanad Eireann in 2002 joining Denis as the Fine Gael Oireachtas team in Roscommon.
"In 2007 in the Roscommon South Leitrim constituency we achieved an incredible result in electing two Fine Gael TDs out of going on to repeat that feat in 2011 that saw the election of the first Fine Gael Taoiseach for 16 years in Enda Kenny.
"Some very difficult reforms and economic measures were undertaken by that FG/Labour Government including changes at the A&E at Roscommon Hospital which ultimately led to the departure of Denis from Fine Gael.
"Denis continued to work with me in the Oireachtas to secure every opportunity for the constituency of Roscommon Galway, while we may have differed on many policies and proposals around government decisions our mutual ambitions were always to do what we could to secure the maximum funding and delivery for the region we both proudly represented.
"The pinnacle of Denis's career was no doubt his elevation in 2016 as Minister for Community, Climate Action, and Environment.
"After 26 years in National Politics and at the age of 49 Denis Naughton has made the decision to change career, however with 4 young children and at relatively young age it is clearly the opportunity now to chart a new route on his life's journey.
"It remains for me to wish him and his wider family the very best in whatever the future holds and no doubt there is a life after politics", concluded Deputy Feighan.