News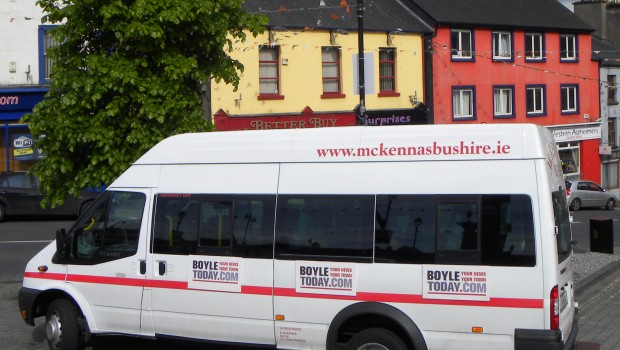 Published on May 31st, 2014 | by BoyleToday.com
Shuttle Bus launches
 The Boyletoday.com Shuttle Bus between Lough Key and Boyle is ready to make its debut trip from Boyle Town Clock, the Crescent, Boyle, at 12 noon today, Bank Holiday Saturday 31st May.
Everyone is invited to attend the launch.
This maiden trip to Lough Key will be the first of many scheduled for the coming months.
The shuttle Bus will run twice daily: departing Boyle from the Crescent at 12 noon and again at 5pm; Military Road at 12.10 and again at 5.10pm; departing Lough Key Forest & Activity Park for Boyle at 12.30 and 5.30pm.
The Shuttle Bus will run 6 days a week Monday through to Saturday for the months of June, July and August. The Shuttle Bus timetable coincides with national Bus & Train schedules.
Ticket price is only €1 per adult to encourage maximum capacity and to provide excellent value while encouraging visitors in Lough Key Forest Park to visit Boyle town.
Boyle Town and More are delighted that this initiative is ready to launch and is a service that we are confident that will attract many of the 100,000 visitors to Lough Key to visit our town.
The support of the Businesses in town is greatly acknowledged as we have over 50 subscribers to this initiative.
The Shuttle Bus idea has finally come to fruition for us and the confidence in the idea was supported quickly by our Main Sponsor –Boyletoday.com which gave great impetus and a cash injection to the project.
A Brochure to accompany the Shuttle Bus initiative is in print and includes all sponsors and their location of Business while also highlighting 10 reasons to take the bus to Boyle which include:
• Visit Boyle's magnificent 12th century Cistercian Abbey
• Explore King House a magnificently restored Georgian Mansion, interpretive Galleries & Museum and Boyle Town library and the Boyle Civic Collection.
• Visit the home of Emmy Award winning 'Moone Boy' & Tony Award nominee Hollywood Actor Chris O Dowd and take the 'Moone Boy Trail' and take home some Boyle Soil!
• Take the Boyle Historical Walking Trail which includes birthplace of Maureen O'Sullivan & Margaret Cousins, Famine Memorial.
• Visit Boyle's Model Railway, an exciting 40ft x 20ft running model railway in a continental layout in HO scale
• Take a stroll through Boyle Farmers Market (Saturday 10am -2pm)
• Relax while your children enjoy the FREE activities in Boyle Pleasure Grounds
• Have lunch or early Bird Dining in any of our Restaurants/Coffee shops
• Enjoy a relaxing drink or two in any of our pubs
• Treat your loved one to some pampering or a new outfit and take home some memories of your visitWhile in Boyle why not take a visit also to Tullyboy Pet Farm; Lough Gara Riding Stables & Country Pursuits; Drumnone Dolmen; Gaelic Chieftain and Carrowkeel Megalithic Tombs or maybe a Pampering session in Kilronan Castle! There's something to suit everyone….. Philip James Walking Tours also are on offer to provide guided walks.
Boyle is a picturesque town with so much to offer and something for everyone. In addition to our many Tourist attractions, we have a variety of top class fashion and gift shops, Interior and Homeware shops, DIY, Beauticians, Pharmacies and many other services- a great variety of eating houses and many pubs who have their own schedule of entertainment. All this detail can be found in the Park on the rotating advertising screen in the Visitor Centre, which will be constantly updated.
For further information on Boyle attractions or the Boyle Lough Key Shuttle Bus, contact Úna Bhán Tourism 071 966 3033 or e-mail unabhan@indigo.ie