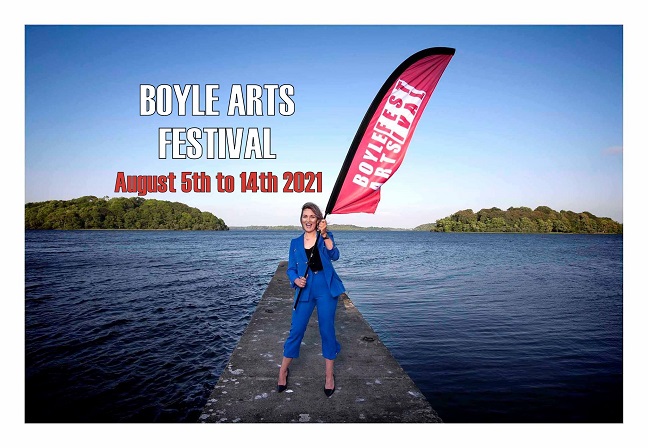 Boyle Arts Festival has always had a strong programme of Spoken Word and Literary events and with a more compact line-up this year, there is still plenty to get excited about!
(By Brendan McGee)
All of our spoken word events this year will take place in our new outdoor venue, The Marquee at Quarry Lane and tickets are now available on www.boylearts.com 
 Carole Coleman is back in the chair for the sixth BAF 'In Conversation With…' series on Friday August 6th.
Carole presents 'This Week', Ireland's longest-running current affairs programme and 'World Report' on RTÉ Radio One. She is the author of a number of books including a forthcoming Journalist's diary of the first lockdown in 2020. This year, Carole's special guest will be Kingston Mills, Professor of Experimental Immunology and Director of The Trinity Biomedical Sciences Institute. Kingston is also Head of the Trinity COVID-19 Research hub. He was appointed to a Personal Chair at Trinity College Dublin in 2001. He won the Science Foundation Ireland Irish Researcher of the Year award in 2020 and heads an active research team, focusing on immunity to infection and autoimmune diseases. 
'In Conversation' will take place at 6:30pm on Friday, August 6th.
Author Kevin Barry will be in town to read some of his work at 1pm on August 6th. Kevin has written the novels 'Night Boat to Tangier', 'Beatlebone', and 'City of Bohane' along with short story collections such as 'That Old Country Music', 'Dark Lies the Island', and 'There Are Little Kingdoms'. His awards include the IMPAC Dublin Literary Award, the Sunday Times EFG Bank Short Story Award, the Goldsmiths Prize, and a Lannan Foundation Literary Award. He also writes for the screen and for the stage.
A Naggin of Knowledge' is one of our most popular events. The idea is to give a non-expert, lay audience an illustrated glimpse at new scientific discoveries that impact on areas of health that are relevant to all.  The presentations will be given in a non-formal and accessible way. This year we are delighted to welcome back Boyle native Professor Marina Lynch. Marina is a Professor of Cellular Neuroscience in Trinity College and she will be joined by Professor John F. Cryan. Originally from Castlerea, John is currently Vice-President for Research and Innovation at University College Cork, where he is also Professor & Chair of the Department of Anatomy & Neuroscience. 'A Naggin of Knowledge' will take place at 1pm on Saturday, August 7th.
Author Louise Kennedy will read from some of her work on Saturday, August 7th at 6pm. Widely published in journals, she has written for The Guardian, Irish Times and BBC Radio 4. In 2019 and 2020 she was shortlisted for both the Sunday Times Audible Short Story Award and the writing.ie Irish Short Story of the Year. Her critically acclaimed collection 'The End of the World is a Cul de Sac' was published by Bloomsbury in April.
Local Historian, Tony Conboy will conduct an illustrated, virtual walking tour of Boyle at 3pm on August 6th. 
Laura Earley will discuss her photo-book 'Roscommon's Mosaic Tradition: Geometric and Artistic Mosaics in the North-West of Ireland at 1pm on Sunday, August 8th. Laura is an Artist and Art Educator from Co. Roscommon and she was recently funded by Roscommon County Council to create and design a photo-book, based on the traditions of mosaics in Roscommon, supported by the Creative Ireland Programme.
There is no shortage of drama at this year's Boyle Arts Festival because Beezneez Theatre Company will present John McDwyer's play 'An Ordinary Man' in the Marquee at Quarry Lane on Thursday, August 5th at 1pm. Funny and heart-breaking in equal measure; Gerry Farrell will perform this extraordinary one man play taking us on the life journey of a simple sawyer through births, deaths and marriages with a bit of football and ballroom dancing thrown in just for craic, until ultimately we realise that while there may be an ordinary man, there is no such thing as an ordinary life.
Fregoli Theatre Company will be in town, or more specifically, all over town on Thursday, August 5t. They will present a free street theatre piece entitled 'Angels', concerning five angels who drop to Earth. This unique performance will take place on the streets of Boyle from 2:30pm to 3:30pm.
 'Angels' is inspired by the idea of re-imagining home and the familiar spaces and places that we all have inhabited for the past year or more. It looks and experiences these places with new eyes, and takes wonder in the details. The Angels have never been in a world like this before and their wonder and marvel may inspire the same in the audience. There are many ways to engage with this performance, audiences can watch from afar, can approach the angels from a safe distance, and can interact if they wish to do so. The performance will not have a verbal narrative, but the angels will have their own movement vocabulary and are happy to learn from the audience also! The Angels will move, dance and make sound and communicate joy, wonder, and excitement through the town!  'Angels' is directed by Maria Tivnan and Tara Finn.
 Fregoli Theatre Company is Roscommon Arts Centre's company in residence for 2020 and 2021 and they are supported by the Arts Council and Roscommon Arts Centre.
For information on tickets for all our events, please visit www.boylearts.com
We will be following all current Covid guidelines, so masks will be mandatory at all our events, social distancing will be in place and hand sanitisers will be at the entrance to our venue.
Any additional requirements for entry that may be introduced by the Government in the coming days, will be published later.
Tickets are not transferable.
This information is correct at the time of going to press but any changes to it will be published on our website, social media channels (Facebook and Instagram) and on the www.realboyle.com and www.boyletoday.com local websites.
For more information on Boyle Arts Festival 2021 please look out for our programmes or visit www.boylearts.com email [email protected] Follow us on Facebook, Instagram and Twitter.
Boyle Arts Festival is supported by The Arts Council.

(Pic courtesy Boyle Arts Festival)