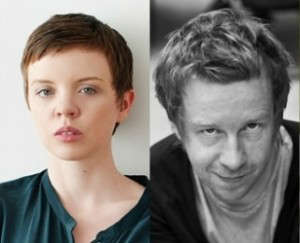 Geraldine Kennedy, Carole Coleman, Jon Kenny, Mary McEvoy, Julie Sharkey, Patricia O'Reilly, Brian Farrell and Sean Boyne will all be in Boyle very soon as part of Boyle Arts Festival, which runs from July 23rd to August 1st.
 This year's spoken word & literature programme will start off at 1pm on Friday July 24th with an artist talk by Thomas RyanRHA, who will conduct a tour of this year's BAF Main Exhibition in King House. Later, at 6pm Oliver Fallon will discuss the ill-fated Gallipoli campaign of 1915, which cost the lives of many Irishmen, 100 years ago. The evening can be rounded of nicely in the company of Susan and Judith Boyle, who will present 'Tales of Ales' – an enjoyable and enlightening event, created especially for Boyle Arts Festival. Enjoy an evening of history, storytelling and beer tasting in Daly's Bar where the fun will start at 10pm.
 On Saturday July 25th, one of the highlights of BAF 2015 will be a conversation between journalist and author, Carole Coleman and former politician and Irish Times editor, Geraldine Kennedy. This unique event will take place at 1pm in King House and is not to be missed. Anybody attending this event would be well advised to stay in or around King House afterwards because at 4pm, photojournalist Brian Farrell will present a fascinating slideshow and talk entitled 'Hold the Front Page'. Brian will showcase some of the most iconic images that have graced the front pages of our newspapers, over the last 35 years.
 On Monday July 27th there will be a chance to hear a reading by former Irish Press and Sunday World journalist, Sean Boyne. Sean has written the first biography of legendary Emmet Dalton, a colossus of 20th century Irish history and this will form part of his talk in King House at 6pm.
 On Tuesday, July 28th Cork born author David Murphy will discuss his latest book 'Walking on Ripples' – a largely fictional account of 'romantic fishing', taking an evocative and sometimes dark, sideways look at the world, down the length of a fishing rod! This is a free event in Mattimoe's bar at 4pm. Later at 6pm in King House, author Patricia Reilly will discuss her latest book, 'The Interview', an account of the Irish designer and architect, Eileen Gray who by 1972, was living as a recluse in Paris. She was interviewed at that time by a Fleet Street journalist but the interview was never published. Patricia O'Reilly explores the facts and imagines what happened between the two!
 On Wednesday July 29th, Bairbre Ni Fhloinn will discuss 'From Ancient Greece to Green Street – John Reilly, Oney Power & the Hidden Histories of Boyle'. Bairbre lectures in Irish folklore at UCD and this evening's discussion will look at the traditional singer John Reilly and the narrator Oney Power, both with conncetions to Boyle. This discussion will take place at 6pm in King House.
 Join us in the Roscommon Herald building for 'North West Curators in Conversation'. This free event takes place from 2pm to 4pm on Thursday July 30th and will include contributions from Megan Johnston, Sarah Searson and Linda Shevlin. Find out how these curators programme their visual art galleries and pick up some tips on how to get your work noticed.
Later at 8pm in King House, there will be a chance to hear prizewinning author Kevin Barry discuss his most recent work. Kevin will be joined by guest author Belinda McKeon.
 Friday July 31st will see three writers reflect on the role of environment, landscape and locality in their fiction and poetry. David Cameron, Martin Dyer and Marie Kennedy will read selections from their work and discuss the way in which their style has been shaped by their respective backgrounds. This event will take place in King House at 6pm.
 On Saturday August 1st, Sam Moore will present 'Visiting the Otherworld – Myth, Legend & Archaeology in the Lough Arrow region'. This talk at 1pm in King House, will explore some of the principal tales associated with the region's prehistoric natural features. An Evening with the Moylurg Writers is always a special event and Saturday August 1st will see an enchanting night of poetry and prose in King House. The writers will be joined by Joseph Woods, Geraldine Mitchell and Jane Clarke. This very special event will take place at 5:30pm.
 The Drama programme will  jump into action with John B. Keane's' The Matchmaker' in St, Joseph's Hall on Saturday July 25th at 8pm. Starring Jon Kenny and Mary McEvoy, it tells the story of a local matchmaker who tries to make matches for the lonely and lovelorn from all over the country. Directed by Michael Scott, this show is not suitable for under 16s.
Starring Julie Sharkey, 'A Game Called Lucy Finally Wins'  is a play within a game show where the stories of Lucy's life are revealed entirely by chance and audience participation! This play will be performed in the unique surroundings of Margaret's Café on Monday July 27th at 4pm. Admission includes Tea/Coffee.
 The Fregoli Theatre Company will stage two presentations of their play 'Mary, Mary, Mary' firstly on Wednesday July 29th at 4pm and then on Thursday July 30th at 5:30pm. Both performances are in King House. Written by Boyle native, Maria Tivnan, this delicately woven poetic piece offers glimpses into the loves, lives and duties of three generations of Irish women. Performed with tenderness and heart, this really is a play worth experiencing.
Two children's puppet shows will take place on Saturday July 25th. Little Gem Puppets will present 'Three Little Pigs' at 2pm followed by 'Little Red Riding Hood' at 4pm in St. Joseph's Hall.
Full details of all the events are in the festival programme. For booking and further information, call to the Festival office in Bridge St., beside Marian's, open every day (except Sundays) from Thursday July 16th until August 1st. Office hours 11am to 4pm and until 6pm during the Festival. Also go to www.boylearts.com  Online booking for most events at www.eventbrite.ie  Email [email protected]  Tel. 071 9663085 or follow us on Facebook and Twitter.
Boyle Arts Festival acknowledges the support of the Arts Council, Local businesses, Roscommon County Council, Foras Eireann and RTE Supporting the Arts.