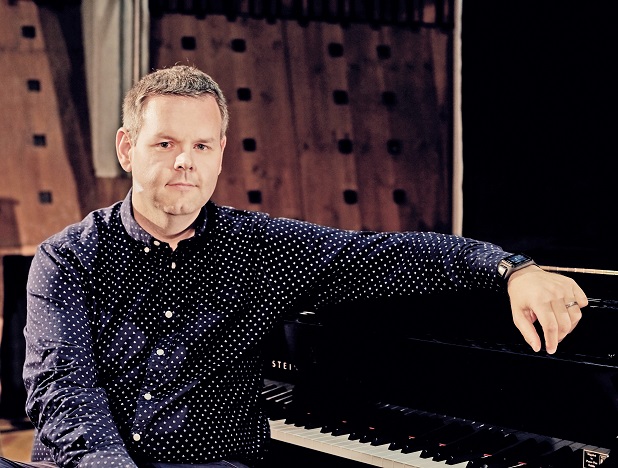 Dr Ryan Molloy is the first recipient of the King House Piano Commission 2020/21, marking the first in a series of music commissions by Roscommon County Council. The commission is in celebration of the Steinway Grand Piano at King House, purchased by Roscommon County Council in 1998 through the Arts Council Joint Purchase Scheme. 
Arts Officer, Rhona McGrath announced "Due to the ongoing Covid restrictions, the premiere will be filmed in the Main Salon where the Grand Piano is at the heart and soul of King House, and streamed to audiences around the world on August 14th. Sraith na Búille merges the worlds of classical and traditional with uplifting, exceptional music, marking another extraordinary year in our lives and in the arts." In a further link to King House, Ryan draws on six artworks from the Boyle Civic Art Collection for inspiration, two of which have local significance 'Winter Field & Trees near Croghan' by Malachy Costello and 'Island Lough Key' by Nick Miller. Since its inception in 1990, the Boyle Civic Art Collection has grown to be widely considered one of the most important civic collections in the country, managed by the trustees and housed at King House.
Composer/pianist Ryan Molloy notes "In some ways, Sraith na Búille (The Boyle Suite) is a traditional version of the Russian composer Mussorgky's Pictures at an Exhibition. In this piece, the composer wanders through an art exhibition (which results in a recurring Promenade theme in the piece) and responds musically to various paintings he encounters there. In the same way, Sraith na Búille is my journey through the Boyle Civic Art Collection, beginning with a musical journey into Roscommon, encountering some of its famous musical connections, on into Boyle and into the gallery itself. The subsequent musical journey follows the four seasons of the year, responding to paintings that clearly evoke the colours and moods of the local landscape throughout our varied climate (which in this piece even warrants the insertion of an extra season between Spring and Summer!). It has been a pleasure to work with musicians Alan Kelly, Steph Geremia and Mossie Martin on this new work, bringing as they do such a deep-rooted understanding of traditional music, which is so central to my music, and also their equally deep-rooted connection to Roscommon.
Sraith na Búille will premiere on Saturday 14th August at 12 noon on www.boylearts.com and will be available to view for a number of weeks here and at www.roscommoncoco.ie.
Funded by the Arts Office of Roscommon County Council together with the Arts Council of Ireland, in collaboration with Boyle Arts Festival and in association with the Contemporary Music Centre.