Boyle Sport
Stonepark Challenge organisers say 'Thank You'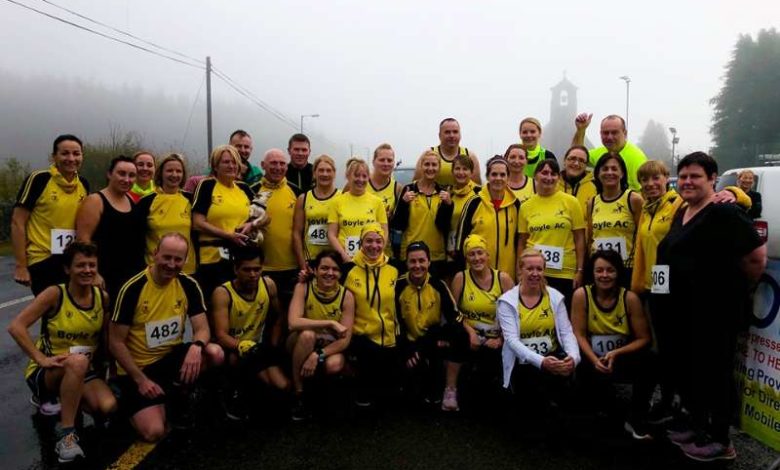 Stonepark Warrior Challenge 2019 is very proud to have raised an amazing total of €3451.
A huge thank you to all who participated and so generously donated to raise this money. Donations are being made to North West STOP Suicide, and Local Development projects in Cloonloo.
The Committee have many individuals and organisations to thank for the tremendous help and support received:
• To the Cloonloo Community who came out in force, and gave generously of their time.
• A particular thank you to all Marshalls and Car Park attendants for a job well done, not only the locals, but also those from surrounding areas Boyle, Killaraght, Monasteraden and Gurteen
• To those who brought baked goods, made sandwiches, and helped out in the kitchen, the food was both delicious and plentiful on the day.
• To Hunts Bakery for generous donation of baked good, cakes etc and supporting this event each year
• To Boyle Athletic Club for their expert assistance for the race organisation and their support on the day. Particular thanks to Helen and Melissa.
• To Alan French and Chain Driven Cycle Shop Boyle for generous sponsorship of prizes and their presence and promotion of the event again this year
• Mark Conlon – Classic Signs for sponsoring signs again this year
• To Sligo Co. Council for providing bollards and barricades
• To local Councillor Paul Taylor for his continued support to the committee with this event each year.
• To Thomas Crummy Landscaping for collection and delivery of bollards and barricades.
• To Lough Key Triathlon Club, Finbarr Keaney and Finbarr Feely for the loan of signage, bike Racking, and Gazebo.
• To Boyle and Ballymote Gardaí for their assistance on the day
• To Sligo Civil Defence for their presence once again this year
• To Mark Kelly Photographer for capturing the scenes and action and providing us fabulous photos of the event again this year
• Photographers from Sligo Champion and Roscommon Herald for their coverage of the event again this year
• DJ Francis Candon, who added great atmosphere, good humour and encouragement to all participants
• CoreTiming for a Professional job on the day, and promotion of the event
• To other sponsors Eamonn Shannon (Hair and More, Boyle), Bernard Furey (Kelly Electrical), and Adrian Tansey.
• To the Wynne Family for their generous support of the event and their united presence at the event each year
• Thanks to local, Cycling Clubs, Triathlon Clubs, and Athletic Clubs, who shared details of our event with their members and joined us on the day.
Congratulations to all athletes who participated in the event, a lot of locals and many who travelled to compete & to winners in all categories, results of 1st-3rd place in each of the categories below:
8km Run Results
Male
1. Anoop Alias – Boyle AC
2. Daithi Murphy – Carrick AC
3. Eamon Molloy – Corran AC
Female
1. Therese Killoran – Boyle AC
2. Siobhan Kelly
3. Sinead Shannon
Duathlon Run Results
Male
1. Brian Sexton – Bottecchia CC
2. Fergal Towey
3. Kevin Moran – Thurlough Wheelers
Female
1. Caroline McLoughlin – Westport
2. Aine O Connor – Lough Key Tri Club
3. Ericka Murray – Sligo Tri Club
8K Run Juniors Male
1. Cathal McKeon – Corran AC
2. Fintan McKeon – Corran AC
3. Shay Madden – Corran AC
8K Run Juniors Female
1. Chloe O'Gara
2. Megan O'Gara
A sincere thank you to all who contributed to this year's success, planning is already underway for Stonepark 2020 Challenge, on Sunday Nov 1st 2020. We look forward to working with you all again.
The Stonepark Warrior Committee