News
Work to start on Boyle 2040 projects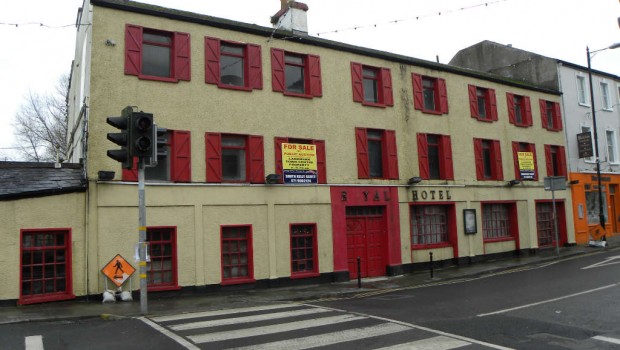 Work is scheduled to commence in the "next week or so" on demolition of a portion of the former Royal Hotel building in Boyle.
Roscommon Co Co has confirmed the news following a meeting on Thursday with Boyle Town Team .
In a statement the Team and Council say "The work will take a number of weeks to complete".
It is understood the former restaurant and accommodation block to the left of the building will be demolished in advance of the €2.3m redevelopment of the main building later this year.
The redevelopment will also include an information point and coffee dock; the creation of a new riverside promenade with canoe dock which will link the town centre, along the river, to key tourism attractions such as King House and Boyle Abbey; and the development of a new Enterprise Centre, Civic Space with acoustic shell at the rear of the Royal Hotel and adjacent to the new promenade.
The tender documents for the consultancy work for the redevelopment of the building are now advertised on E-Tender with a closing date of May 17th.
After that a consultancy firm will then be appointed to oversee the redevelopment.
Cycle Path
Boyle Town Team and Roscommon Co Co also welcome the agreed route of the cycle path from Lough Key Forest Park to Boyle.
The 3 metre wide tarmacadam path will leave the Park via the Second and First gates of Rockingham and turn right down Drum to take in the Marina area before heading back into Boyle via the Woodenbridge Road and adjacent to the N61, crossing the main road opposite Boyle GAA training pitch and heading into Boyle via the existing path way which will be widened adjacent to Stewarts wall.
Chairman of Boyle Town Team Brian Nerney said the Team are delighted that psychical work will now commence on a number of projects around Boyle that were recently granted funding.
"While we will see a lot of progress in the next few weeks and months, it will be 2020 before a number of these developments come to fruition" said Brian.
"Following all the behind the scenes hard work, we are now seeing the first psychical signs of progress on the redevelopment of Boyle which is very exciting, the Chairman concluded.