News
'Irish at Home & Abroad' in Boyle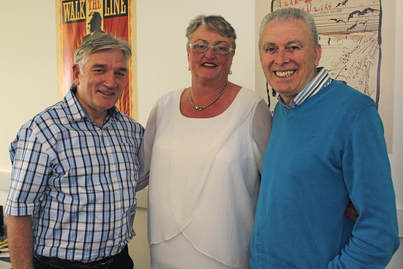 The Irish at Home and Abroad show will visit Boyle this Saturday to film an hour long programme to broadcast on the Sky network later this year.
Producer of the show and St. Patrick Street native Ann Coen (nee Smith) says she is delighted to have an opportunity to showcase her home town.
The Irish at Home and Abroad  is presented by Henry Mc Glade and showcases business, culture, tourism, entertainment and sport and gives an insight into how the town is developing and promoting itself to the diaspora.
Among those who will feature on the show are Vera Gaffney (artist), Brendan Mc Gee and Vivienne Caldbeck (Boyle Musical Society), Brian Nerney (Boyletoday.com and the Spool Factory), Donal O'Connor (Singer/Song writer), Francis Gaffney and John Carty (Musicians), Christy Wynne and Frank Tarpey (Local Historians) and Senator Frank Feighan.
Segments will also be shot in Boyle Abbey, King House and the Courtyard Market and a Trad session in Dodd's Crescent Bar.
Filming will commence at 11am and conclude at approximately 5pm.
During their time in Boyle, the crew will use the facilities of the Spool Factory Co Working Hub.
The Irish at Home & Abroad is an hour-long magazine style TV programme that airs on Sky 212 and Freesat 161 every Thursday night at 7pm.