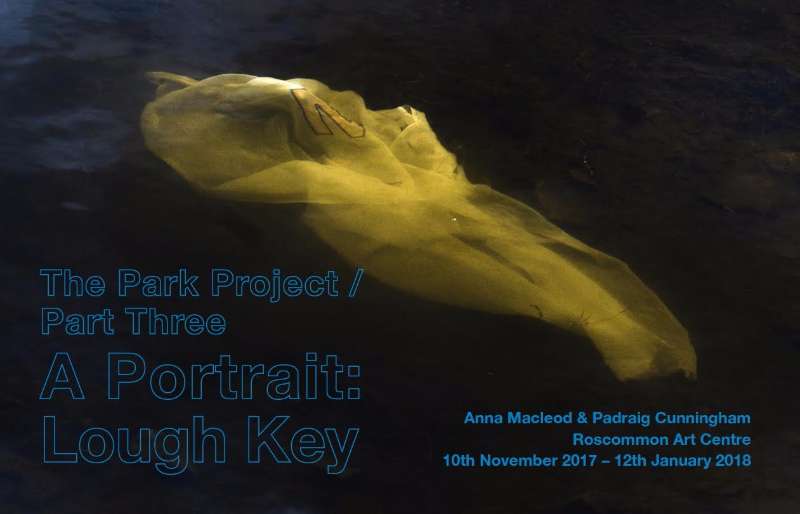 Boyle based artist Padraig Cunningham along with Anna Mcleod's "A Portrait: Lough Key"  continues at Roscommon Arts Centre until January 12th, 2018
Lough Key has been home to communities of humans for millennia, as a body of water it has functioned as a place of refuge and contemplation, as a trade route and economy, as a site for recreation and stability. The ecology of this body of water can be seen as a site of constant renewal, a waterway of connectivity between manmade and naturally occurring parcels of land dotted throughout the surface of the waters. In the communities that continue to live in the vicinity of this watery world, Lough Key commands huge, almost visceral, affection as a repository of memory, of time passed in aquatic suspension, as an intense emotional mirror of celestial and temporal bodies. The constant movement of the water, its undercurrents and surface tensions create a hypnotic dream world of interconnected realms of the states of water, as vapour, as liquid, as solid.
For this years' iteration of the Park Project, commissioned artist Anna Macleod chose to work in collaboration with Boyle based artist Padraig Cunningham. They worked with community members to create a portrait of Lough Key as a time-scape through the life cycle of the Mayfly (order: Ephemeroptera) from the Greek, meaning 'living a day'. A Portrait: Lough Key installation at Roscommon Art Centre explores the motif of the Mayfly as a portal to the complex reflective upside down worlds of this body of water, a delicate and vulnerable world of domesticity, constant flux and potential.
With many thanks to Paul Wynne, Colm Walsh, Damien Walsh and Danny Shanley of Lough Key Boat Tours.
Field underwater recordings with kind permission from Ciarán MacAoidh.
Anna Macleod has exhibited widely Nationally and Internationally. Recent residencies include: Water Rights Residency, Santa Fe Art Institute, New Mexico. 2017. Food Water Life, themed residency with Jorge and Lucy Orta, Banff Art Centre, Alberta, Canada. 2015. Joya, Arte & Ecologia, Spain 2016. Leitrim Sculpture Centre, Co Leitrim, Ireland 2015 & Broken Hill Art Exchange, New South Wales, Australia, 2015. Recent solo exhibitions include: Water Conversations – A Survey of Works 2007 – 2015 at The Dock, Carrick on Shannon, Ireland. 'Staid na Talún – A State of Land', Leitrim Sculpture Centre, Co Leitrim, Ireland, Water Conversations – Broken Flow, Broken Hill Art Exchange, New South Wales, Australia.
Macleod is the recipient of the Firestation Artists' Studios, Dublin, International Residency Award for 'A Thousand Points of Light' residency in Joshua Tree, California in March 2016. She was awarded an Individual Artists Bursary from Leitrim County Council Arts Office in 2015 / 2016 and Arts Council of Ireland Travel and Training Award towards the costs of residencies in Australia (2015) and USA (2016 & 2017) and the Jim Dinning and Evelyn Main Endowed Scholarship for Visual Arts for Banff Art Centre residency in 2015.
www.annamacleod.com
Padraig Cunningham moved to Boyle, Co. Roscommon in 2005 and was Artist in Residence in the Dock Art Centre, Carrick-on-Shannon which culminated in a group exhibition, 'Convergence'. In 2009 he was awarded a place on the Trade residency, an international residency working with the artist Darren Almond, funded by Leitrim and Roscommon arts offices. This programme concluded with the Trade conference and an exhibition titled 'Sequence'.  In 2011 he was invited to participate on an international project and residency in Bodh Gaya, India. The work was exhibited in Patina, India and in Galway at Tulca 2011. In 2013 Padraig was commissioned to produce a film that responds to a poem by Peter Fallon for The Poetry Project which commemorated Ireland's EU presidency. In 2015 he completed SPARK residency where he collaborated with staff of a technology enterprise centre, the subsequent work Emergent Properties was exhibited as a conclusion to the project. In 2016, along with artist Karl Burke he was commissioned by Roscommon Art Centre curator Linda Shevlin to make a collaborative work with a Brothers of Charity group in Boyle, the resulting work Among Things was exhibited in Roscommon Art Centre. Padriag also runs a very successful graphic design studio puredesigns.ie
www.padraigcunningham.com
About the Park Project
The Park Project takes on the form of a residency that allows an artist to occupy the spaces in and around Lough Key in Boyle, collecting history and exchanging knowledge that will inform their future work, while working within the historical and contemporary contexts of the site.
The Park Project was developed by curator Linda Shevlin and is supported by Roscommon Arts Centre & Roscommon County Council Arts Office.