News
Abbey College students celebrated at Awards Ceremony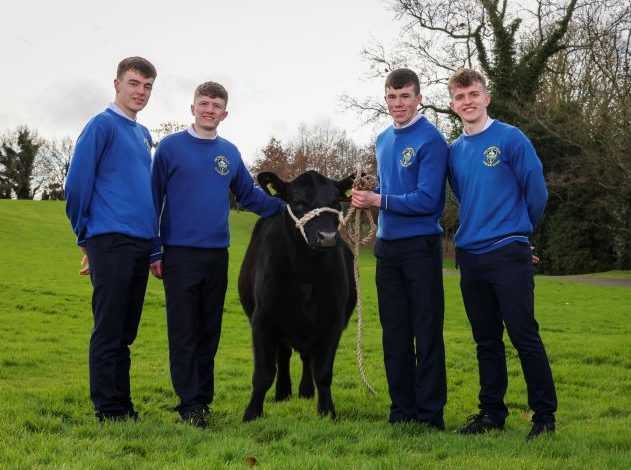 Four students from Abbey Community College, Boyle were celebrated at the annual Certified Irish Angus Schools competition awards ceremony in Croke Park on Friday. The students David Duggan, Colin McGrath, Gavin O'Connor, and Liam Killoran attended the prestigious grand final in the Hogan Suite after successfully completing a research project and rearing five Angus calves for 18 months.
The Certified Irish Angus Schools' Competition in association with ABP and Kepak is an initiative that challenges students to rear five Irish Angus Cross calves for 18 months until their slaughter which aids their Leaving Certificate Agricultural Science curriculum. It aims to promote the Certified Irish Angus Beef brand while communicating the care and attention required to produce quality beef for consumers.
As part of the competition, the Leaving Certificate students, David Duggan, Colin McGrath, Gavin O'Connor, and Liam Killoran conducted research on "Sustainable Beef Production." This group's project aimed to communicate the message that Certified Irish Angus bred beef could help improve the sustainability of beef production on suckler farming farms which are common in the Boyle area. The students found that Angus cattle could be slaughtered at a younger age than other breeds in their locality while maintaining the quality of the beef. This meant that Angus cattle were responsible for lower greenhouse gas emissions due to the lower age of slaughter.

Competition growth
The Certified Irish Angus Schools Competition is setting up for its tenth and biggest year yet. In 2022, over 170 groups, nearing 600 students took part in the competition with 23 counties represented from all provinces.
Currently, farming industry experts are judging this year's 42 shortlisted projects and will select five finalists from their biggest pool of shortlisted projects ever. The judges include representatives from right across the agri-food industry ABP, Kepak, Tesco, Hilton Foods, Teagasc, Bord Bia, Agri aware, IASTA, Certified Irish Angus Producer Group, NPA, JM Foods, Irish Farmers Journal, ICBF, The Glasshouse Hotel Sligo, and previous competition winners.
The five schools that best demonstrate an understanding of the project along with innovative ideas will be announced in September and will receive their calves at the National Ploughing Championships in September 2023. Each of the finalists receives the financial benefit involved in the selling of the animals to the processors on completion of the project which amounted to an average €7,500. The winning students also receive an additional grant of €2,000 for their further education.
For further information on the projects visit  www.certifiedirishangus.ie/certified-irish-angus-schools-competition/
(L-R) Liam Killoran, Gavin O'Connor, Colin McGrath, and David Duggan from Abbey Community College, Boyle were celebrated at the annual Certified Irish Angus Schools competition awards ceremony in association with ABP and Kepak in Croke Park. The students researched "Sustainable Beef Production." Pic: Chris Bellew, Fennell Photography