Events
"Ardcarne Remembers" weekend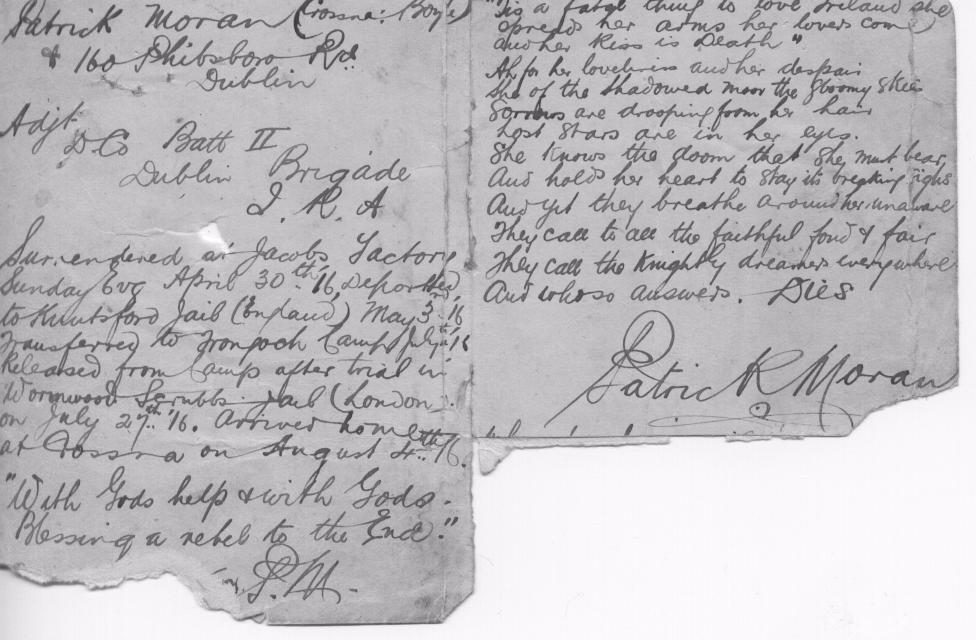 The Ardcarne Remembers (1913-1923) Committee has organised commemorative weekend events to take place from April 29 to May 1, 2016 in the Crossna Community Centre, Cleen Hall, Knockvicar. The opening address on Friday evening, April 29, will be given by Mr Michael Mc Dowell, SC.
The speakers on Saturday, April 30th, will be Professor Luke Gibbons, Dr John Morrissey, Oliver Fallon, Turtle Bunbury, May Moran, Patricia Molloy and Dr Kieran O'Conor.
On Sunday May 1, memorial stones at the birthplaces of Patrick Moran, Joe Molloy and Terence Glynn will be unveiled. An information board with their details and those of Father Michael O'Flanagan, who was a curate in Crossna (1915-1918), will be unveiled at Crossna Church. This will be followed by an ecumenical service in Ardcarne Church and the unveiling of a memorial stone, near the entrance gate to the graveyard, to the men from the Ardcarne Parish who lost their lives in WW1, the Irish War of Independence and the Irish Civil War.
The following is the list of those whose names will be on the memorial at Ardcarne:
World War 1 casualties
Thomas Connor( Derryherk). John Conlon (Clegna). Benjamin Dolan (Gloria), Patrick Kennedy (Brackloon), Patrick Lynch (Churchill), Michael Moffatt (Gloria), John O'Hara (Moigh), John Rea (Clooneybrien) and Edward Stafford King Harman, (Rockingham).
War of Independence casualties.
Patrick Moran(Crossna), Terence Glynn (Drumshinney), Joseph Molloy (Aughnafinnegan),
Royal Irish Constabulary
James, Martin John and Thomas Greer,(Knocknacarrow)
Thomas Bridges(Behy).
Henry O'Brien(Moyoran).
The committee would like to invite relatives of the above to be part of the weekend and to attend the unveiling of the memorial. While we know some relatives of the men listed above, we do not know those of others. If anybody can assist us with this information please contact any committee member or May at 086 8301259.
Ardcarne Remembers 1913-1923-Committee members are: Gerry Conlisk, Chairman, Geraldine Leydon, Secretary, Tony Bambrick, Martina Deane, Joint Treasurers, Padraig Harte, Kieran O'Conor, Helen Smyth, Father Brendan Mc Donagh and May Moran.