News
Abbey conservation project detailed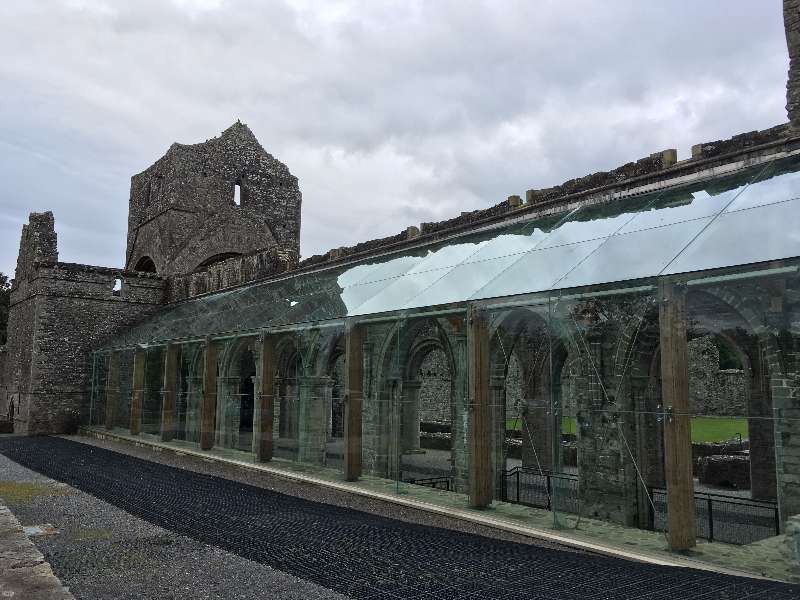 In 2004, Carrig Conservation International were appointed by the Office of Public Works, in partnership with a structural engineer, to carry out a detailed condition survey of the north aisle wall and establish an understanding on the nature of the issues with the now badly bowed north aisle wall of Boyle Abbey.
The project was completed in 2011 and has been the subject of much comment since then.
When the Carrig were appointed, the wall of the Abbey was 1.5m off plumb at its worst point. The various possible causes of this were investigated and a number of recommendations were made.
It was concluded that the loss of the roof and north aisle along with the poor quality of the ground on which the structure was built had lead to the movement of the arcade wall. The buttresses, constructed to support it, were in fact pulling the wall further out of line. The construction of the buttresses by the late 18th Century indicates that the issues of the north aisle arcade's stability was of concern from an early date.
The decision was taken to dismantle the bowed section of wall, insert sound foundations, and rebuild the wall in a form that would allow it to be self-supporting. Carrig were instructed to devise a methodology for recording, dismantling, storing and reconstructing the wall. A full photographic and drawn record was compiled, including stone accurate drawings.
A numbering system was devised and trialled, which included a rigorous system of controls and checks including colour-coding and the use of grid-lines which ensured that each element of the wall would be rebuilt in its correct position.
In total six piers and the associated walls above these were carefully dismantled by hand and stored in designated areas. New piled foundations were laid and the wall rebuilt using mortars based on the results garnered from analysis of the building's historic mortars.
A full programme of archaeology was carried out in tandem with the conservation works and these excavations unearthed the foundation line of the original north aisle structure. As part of the rebuilding, some new dressed stone was provided and damaged stone repaired as required.
It was decided to recreate the north aisle in timber and glass which has now become an exhibition area within the abbey.
Boyle Abbey remains open to the public for a further week until September 27th when it closes for the winter.
You can find out more about Carrig Conservation here