News
Boyle cyclists raise €13,000 for North West Hospice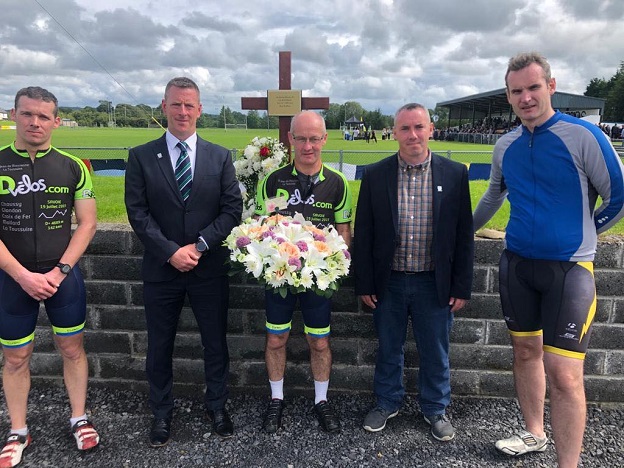 The 'Cycle for Sandra' event on Sunday last has so far raised approximately €13,000 for the North West Hospice.
The cycle was in memory of the late Sandra McCrann.
During the back leg of the event, the cyclists took part in a wreath presentation to the family of the late Detective Garda Colm Horkan following his month's mind Mass in Charlestown which took place on Sunday also.
Photographed above are Gavin Brennan, Seanie Brennan and Brian McMahon, making the presentation on behalf of the Boyle group and Carrick on Shannon Garda Siochana who sponsored the wreath, to Charlestown Sarsfields Chairman, Liam Breheny and Colm's brother Padraig Horkan
Meanwhile, Colm Brennan, who took part in 'Cycle for Sandra' has published an entertaining review of the cycle which is published hereunder:
"The cycle was completed by everyone which for me was a massive achievement. The groups ages ranged from 27(James Carty) to a young fresh 71(Micheal Reid). We were blessed by the weather apart from a savage headwind on the way over and three heavy showers. Luckily the second shower was at the reek.
A quick calculation of both "Cycle for Sandra" pages along with Robert Reid's fundraiser have raised over €13000.Wow. At the first meeting we said €1000 was going to put a smile on our faces. I can assure you that the biggest smile of all is on Sandras face knowing that ye all contributed to make the people, who are in most need of it will benefit from this money raised. We really can't say it enough but on behalf of us and the McCrann family-
THANK YOU
On behalf of the Cycling group we would like to thank Kevin Mullen, Enda Madden and Dessie McLoughlin for the support over the course of the day. A few cycling repairs,a million Jaffa cakes and the equivalent of Lough Key in water were muchly appreciated. There would have been a few shocker frames if it wasn't for this much needed support.
Also the women Roisin Mullen, Kathleen Brennan, Mary Brennan, Maureen Carty and Niamh Flaherty. The sambos, buns, tarts, scones etc were unreal. To think this used to be a one woman job. Seriously thank you it was fuel we badly needed.
On our return thanks to all neighbours who clapped us home. I was happy to see ye all even if my face said otherwise.
Then there was a BBQ which after demolishing we were informed had been kindly donated by Cyril in Boyle County Meats. Another sign of the wonderful town we live in. There were ribs, burgers, skewers Oh Jesus it was a vegans nightmare! I'd highly recommend his turkey burgers even to a vegan.
Has anyone heard of Stronglife? Well our Social media has had a strong backing from Colm. Although the pages and comments have been sent from yours truly the wording and humour (well the good parts) have been put together by Colm. I'd say he is wasted in the gym and should be in marketing but the man is too good in a gym.
Moving back to Dessie McLoughlin, he has kindly sponsored our T-shirt which were produced at a cut throat price by Paul Byrne. He also produced the signs which provided an extra push in the funding. Thanks Paul and just to inform you you'll never out run/cycle your father in law. The man is fitter than any of Carty's fiddles. Dessie also sponsored the signed frame which was presented to the McCranns on our return.
Thanks to Brian Nerney for his support through Boyletoday.com – a website that supports the positive work being carried out in our town and who provided us with a platform to expand the audience for our fundraiser.
To Jerry Clifford and the staff of St. Joseph's N.S. for providing us with a setting to have meetings and allowing us use their equipment for food stops along the route. A hot cup of tea is hard bet.
To Carrick Gardai who sponsored a wreath which was presented to the family of Colm Horkan on our return to Charlestown. The family also gave a generous donation to the charity.
To the McCrann Family, for allowing us to run the fundraiser in memory of Sandra. The North West Hospice are grateful to receive the money but it wouldn't have been possible without the families consent. And the €13,000 is a testament to the woman herself.
Finally to everyone who donated. A big thanks to ye all especially during these hard times. If I wasn't so lazy I'd thank ye all individually but I really am that lazy. Sorry!
(Photograph courtesy Charlestown Sarsfields GAA)