News
Cheque for €17,000 presented to North West Hospice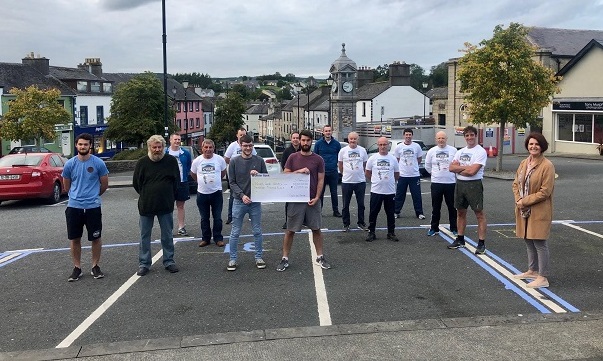 A cheque for €17,000, the proceeds from the recent 'Cycle for Sandra', was presented on Monday evening to Nuala Ginnelly from the North West Hospice.
The grand total was raised following the Cycle for Sandra, Cycle for Sandra Take 2, Robert Reid's Fundraiser in the UK along with cash and cheque donations.
Robert Reid (pictured below) raised over €3000 in London after he undertook a sponsored head shave and cycled over 700k around London.
Those involved in the events would like, once again, to thank everyone who donated and helped during the fundraiser:
"Thanks for the continued support from Boyletoday.com which from the beginning, gave us a platform to build the fundraiser around. A special thanks to the McCrann family for allowing the fundraiser to be held in memory of Sandra and for all their help which the woman herself would be proud of. Finally to all the cyclists, Sean Brennan for getting the wheels rolling, Gavin/John/Micheal/Colm Brennan, Kevin/Martin/Brendan Mullen, James/John Carty, Micheal Birmingham, Micheal Reid, Eddie Conry, Aaron O Connor, Brian McMahon, Peter Gavigan and Ray Hannon. With only a blow out and a flat all to report, the recovery cars of Kevin Mullen, Dessie McLoughlin and Enda Madden had a pretty boring day. There may be plans for next years event but for now we are signing off…."
(Boyletoday.com photograph shows some of the cyclists along with members of the McCrann family making the cheque presentation)