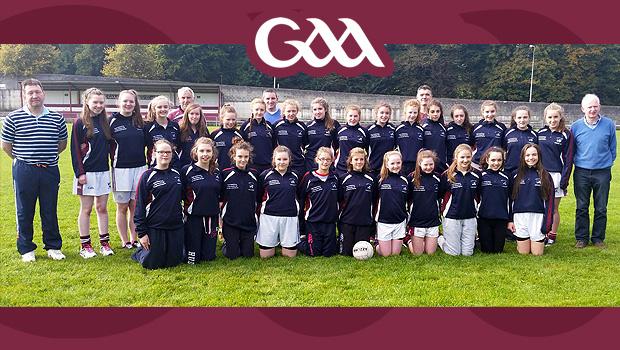 The following were €20 at the most recent Club Lotto draw which was held in Wynnes; Donal Kelly and Seamus Cooke. The house prize was won by Conor Lavin. The jackpot wasn't won and it will be at a new record level of €10,200 for this Saturday night's draw which will be held in Gerry Mattimoe's Pub. Team B will be in charge.
Our U14s will play their Garda Cup semi final with Castlerea St Kevins on Sunday next in O'Rourke Park. Support will be appreciated. The Garda Cup Final (irrespective of who is involved) will be played in Abbey Park on Saturday 5th December.
The "Get Active Today" campaign came to a conclusion on Sunday with a very enjoyable 10k walk from Abbey Park to Lough Key, and returning to the Clubroom for a very welcome cup of tea. Thanks to the organising committee who prepared a comprehensive seven week programme of events which included morning and evening walks, circuit training, fitness sessions, pilates, yoga and talks on health and wellbeing. Thanks to the team leaders who facilitated all events and to Kelly's Londis for their greatly appreciated sponsorship. Hopefully those who participated will continue with their keep fit habits and that many will join local pilates, fitness and yoga classes. It is hoped that an even bigger fitness initiative will be organised next year.
Those who have been issued with tickets for the GAA National Draw are requested to conduct all ticket sales (minimum sale of one book) in the coming week and return money and  counterfoils to the Treasurer before the end of November.
The Club AGM has been fixed for Sunday 6th December at 5pm. Nomination forms have been issued to club members, who are asked to complete and return the forms to the Secretary by Friday 4th November. Members are aske to ensure that they have the prior consent of those whom they are nominating.
Thanks to the club mentors and parents who helped make it a very enjoyable trip to the International Rules game in Croke Park on Saturday for our U12s.
Well done to our quiz team of Cillian Doyle, Daire Cregg, Ronan Flanagan and James Bolger who were just pipped by Elphin in the Scór na nÓg county finals in Athlone on Sunday. Thanks also to Mary Doyle for co-ordinating.
The full results of the "Know your Sport" sports prediction completion are now available and can be accessed via the Boyle GAA Facebook page so that you can see how you finished. The winner was Henri Clifford who picked up €500 for his efforts, second was Ray Hannon who got €200 and the third prize of €100 went to Ballinameen to Peter Keane. The Club hopes to run a similar competition next year.