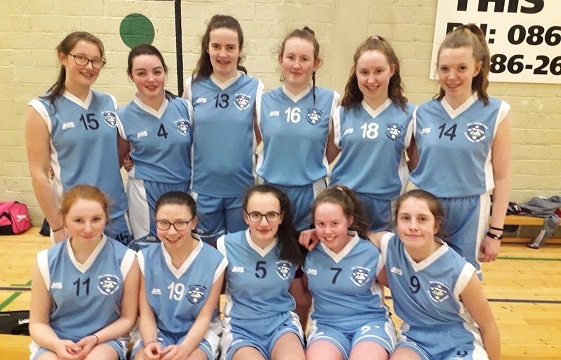 Abbey Community College Boyle 42 Colaiste na Carraige 21
Congratulations to the 2nd year Abbey College girls who have qualified for the regional basketball final after a hard fought semi final win on Monday against Colaiste na Carraige, Donegal.
While slow to get into their stride the Boyle girls were ahead after the opening quarter 13 v 5 with 10 points from Aisling Feely.
The second quarter was a poor low scoring affair with little action leaving the score 15 v 9 at half time.
In the third quarter things started to improve greatly with Ailbhe Kennedy and Isabelle King dominating under the basket allowing for the fast break of Clodagh Sheerin and Grainne Rooney who time and again set up Aisling Feely for a score to make it 25 v 15 at the end of the quarter.
This continued into the fourth quarter and the girls started to find their rhythm with some excellent defensive work and then using the fast break to great effect with Feely in fine form scoring 14 of the 16 points leaving the final score Abbey College 42 Colaiste na Carraige 21.
The girls now play a very strong Mercy College Sligo in the final on Tuesday March 19th in the Sligo Regional Sports Centre.

Front row l-r. Kate Murphy, Katelyn Roddy, Clodagh Sheerin(4) Tara Casey, Caoimhe Cregg(2).
Back row: Isabelle King (6), Cliohdna O Dowd, Ailbhe Kennedy (2), Aisling Feely (27), Grainne Rooney, Madison Casey