News
Boyle Golf Club news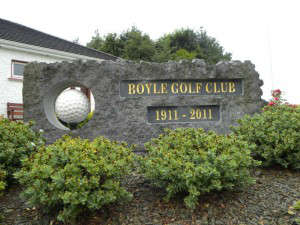 The second round of the Spring League took place last weekend with Brendan Gaffney, Sandra McCrann & Cillian Doyle leading on 125pts, 2nd Charlie O'Donnell, Ruth Hogg & Michael Reid 124pts, 3rd Liam Mullaney, Tom Kearney & Ted Hestor 123pts. Final round this coming week can be played anytime between Wednesday and Sunday.  The weekly nine hole re-entry can be played any day Monday – Sunday.
Last weeks nine hole was won by James Shivnan 21pts, 2nd Owen Garvin 19pts.
Draw for the foursome's competition takes place next Sunday March 22nd. Entry sheet on noticeboard. Teams will consist of a low and high handicap.
A club outing will take place to Mount Temple on Saturday March 28th. Cost will be €35 per person plus €5 prize fund. Outing includes tea/coffee on arrival and three course meal afterwards. First tee off 11.00. Please check noticeboard or the members section on the website for details.
Date for your diary is the first Golfer of the year competition on Sunday March 29th. Format will be 18 hole stableford.
Course maintenance, including work on bunkers, 16th teebox and drains will take place between Tuesday April 7th and Friday Saturday April 11th. All the work is weather dependent. The course will have to close during some of this time. More details on the website (course section)
Please send your 2015 membership fees to Geraldine McDermottroe, Membership Secretary, Carrick Road, Boyle. Thanks to all who have paid membership to date.