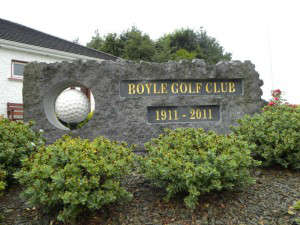 Well done to Crumlin Classic winners Charlie O'Donnell, Liam Whyte & Michael Gilmartin 87pts, 2nd Willie Tiernan, Tom Kearney & Sean McLoughlin 86pts, 3rd Gary Carty, Adrian King & Michael Gilmartin 85pts. Thanks to all who took part. The winners go on the represent the club in the Connaught final. In the Mens Foursomes Terry Bright and Pat Conroy, and Sean Heslin and Sean Mcloughlin(defending champions) are through to the next round. The second round is to be completed by April 25th.
Weather permitting pole forking of the greens will take place on this Thursday & Friday. The club appreciates all voluntary assistance for this work. The course will be closed during this time with updates posted on the club website. As a result the mens competition will re-start on Thursday 16th April.
Next Sunday is the Holmpatrick Cup. Format is fourball betterball. Entry sheet for the King Harmon is on the noticeboard, draw will take place on Thursday 23rd after mens competition
Dates for your diary are the voucher competition on Sunday April 26th, the Club Fundraiser on the May Weekend and the Horse and Summer Show Classic on Saturday May 9th. Friday evening Scrambles commence on Friday April 17th
Congratulations to Katie Loftus and Joe on the birth of their baby of Lucy May. Congrats also to proud Grandparents Margaret and Colm.