News
Boyle man honoured in New York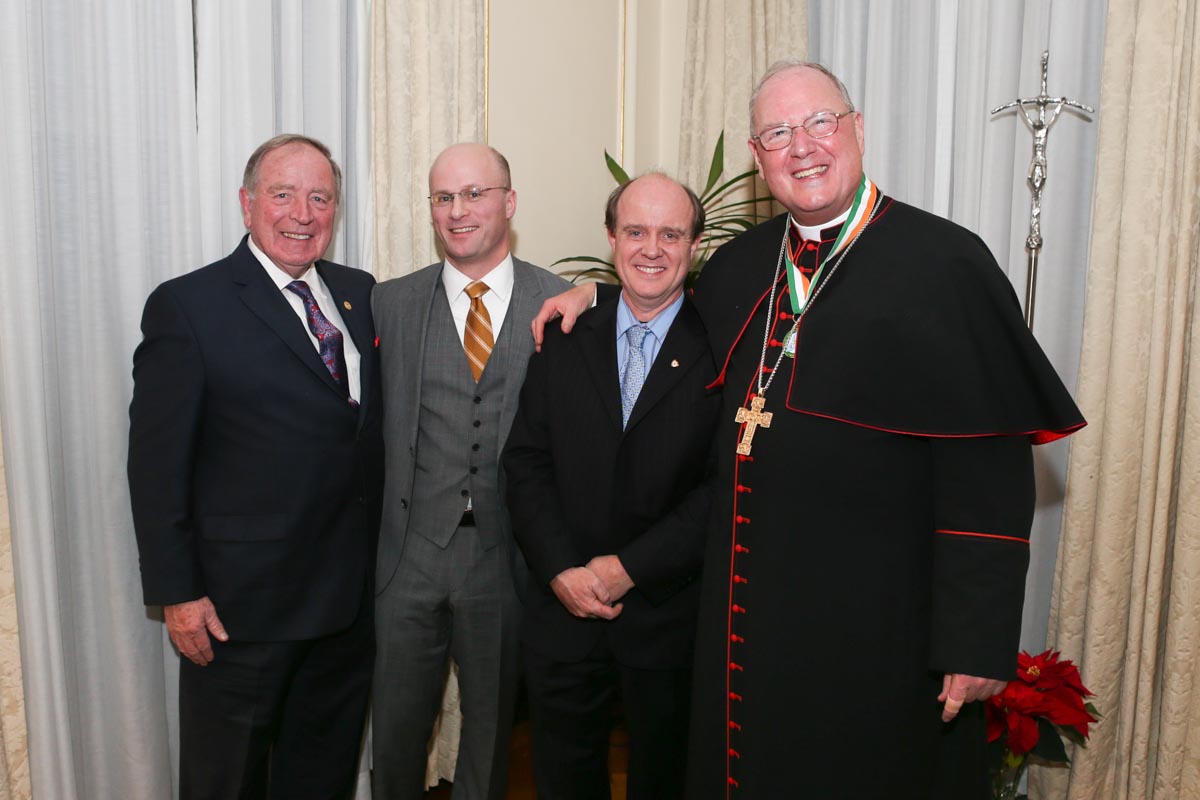 Timothy Cardinal Dolan honored members and guests of the St Patrick's Day Foundation of New York at his residence on Madison Avenue
on Tuesday
evening January 7
th
.
Among those who attended was Rathdiveen, Carrick Road, Boyle native Hilary Beirne who is Chairman of the Foundation.
After welcoming everyone Cardinal Dolan urged guests to support the St Patrick's Day Parade and work of the St Patrick's Day Foundation. He express deep appreciation to all present. He thanked Hilary Beirne Chairman of the Foundation and John Dunleavy Chairman of the Parade for all of their hard work on behalf of the people of New York City, the Irish Community, and Ireland. "We want to ensure New York City St Patrick's Day celebration continues to be one of the greatest in the world. We also want to ensure all New Yorkers that they will continue to enjoy the magnificence of this great event which has lasted for over 250 years". "For this reason it is important to support the efforts in the Foundation under Hilary's guidance and the Parade" he stated.
Hilary Beirne Chairman of the Foundation then addressed the many supporters of Dolan and prominent New Yorkers "We look to you for your support to continue the greatest symbol Ireland has outside Ireland; to continue a 253 year old NY institution that is recognized worldwide as the greatest celebration of our Irish faith and heritage" "I want to thank Vice-Chairman Sean Lane and Cardinal Dolan for supporting our efforts to secure the future, as we need to leave St Patrick's Day celebrations intact for future generations to enjoy; otherwise we should not be here this evening' he stated. "Our mission is to support the New York St. Patrick's Day Parade and related activities and to celebrate the contributions of the Irish to American society" Beirne said.
In attendance at the reception were many noted New Yorkers; Timothy Cardinal Dolan; Fr. Joseph McShane President Fordham University; Brennan O'Donnell President Manhattan College; Tim Ahern President  Ahern Painting; Hilary Beirne Chairman of the St Patrick's Day Foundation and his wife Marguerite; Larry Camerlin of Angel Flight;  John & Bridgette Casey; John Dunleavy Chairman NYC St Patrick's Day Parade; Kevin and Sue Dwyer Chief Development Officer North Shore-LIJ; Lars Halter German-American Steuben Parade; Patricia Harty Irish America Magazine; Sean McCooey Concept Capital Markets; Noel & Hahora Kilkenny Council General of Ireland; Joe Manning and Thomas Mellett Bank of America; James McNally Director Abbey theater Dublin & PWC;  Dr. Joe Mulvehill CEO, Park Avenue Concierge; Bill & Patricia O'Connor Thompson & Knight; Sean Lane SVP, US Trust and Vice Chair of the St. Patrick's Day Foundation; Robert Savage CEO Nanette Lepore Designs; John Fitzsimons Chairman Celtic Associates; Tony Dalton FX Prime Brokerage BOA;
 Picture shows LtoR John Dunleavy Chairman NY St Patrick's Day Parade, Sean Lane Vice Chairman St Patrick's Day Foundation NYC, Boyle man Hilary Beirne Chairman St Patrick's Day Foundation NYC and Timothy Cardinal Dolan