News
Boyle wins Enterprising Town awards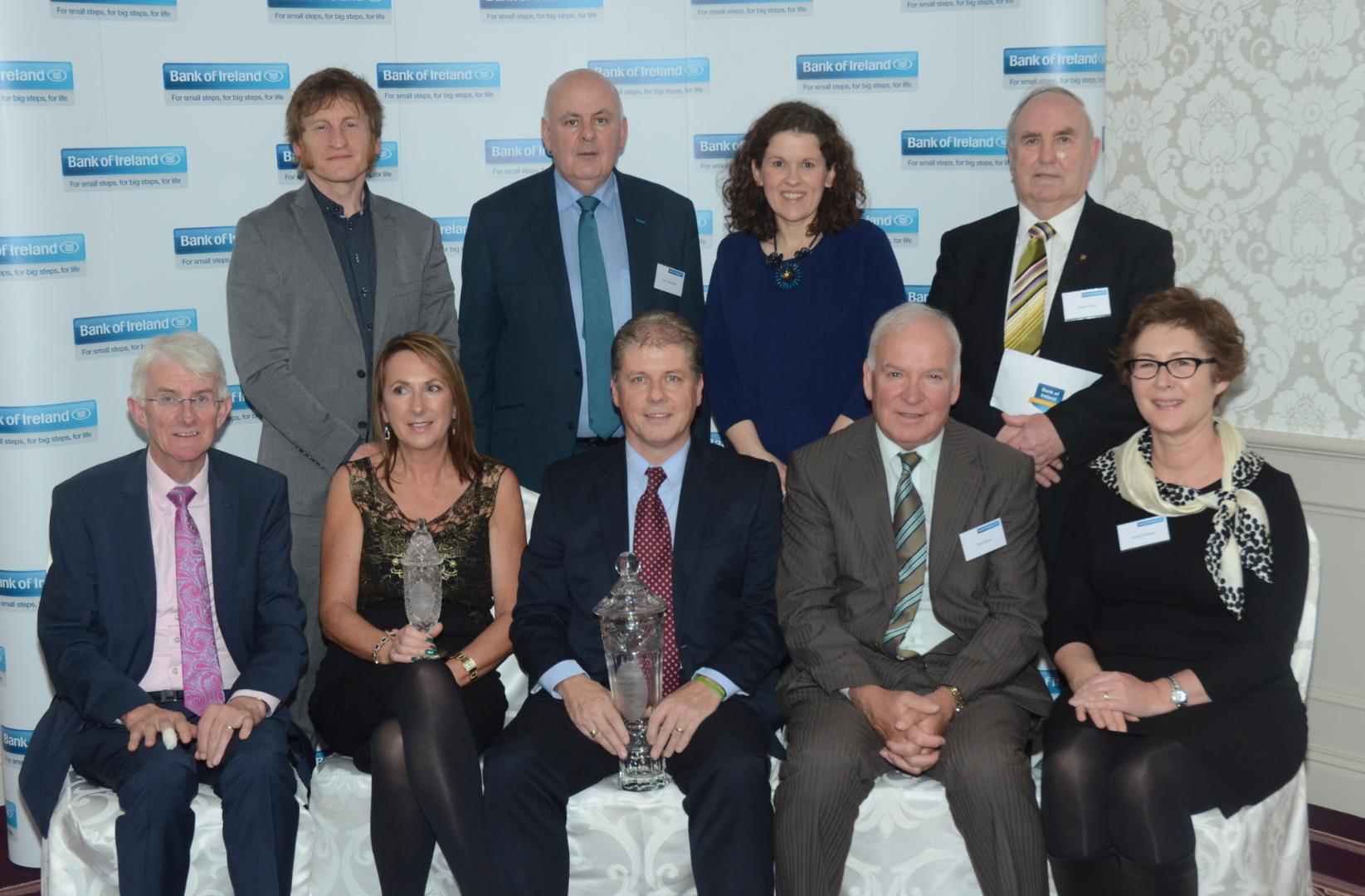 Boyle was named the overall winner of the Bank of Ireland National Enterprising Town competition.
As a result, Boyle can now proudly claim to be "Ireland's Most Enterprising Town".
Boyle also scooped the county award on the night, beating off strong competition from Ballaghaderreen, Castlerea and Roscommon.
Along with two beautiful Galway Crystal trophies, the town is now €13,000 better for it's efforts. (€3,000 for the county award and €10,000 for the national award)
The awards ceremony was attended by community activists from all over Ireland along with Bank of Ireland officials, local authority representatives and the Minister for Communications Denis Naughten.
Boyle Town Team – the lead group in the town's application- was represented by Brian Nerney (Chairman), Frank Geelan (Treasurer), Patricia Golden and David Gunning.
Speaking to the assembled media following the awards, a delighted Brian Nerney said "to win the county award was an honour in itself but to win the overall national award was beyond our wildest dreams".
Brian paid tribute to the Town Team members, the Chamber of Commerce, the various groups, business people and individuals young and old from Boyle who made the judging day a success and who he said can feel justly proud that they assisted in winning the awards.
He also thanked the sponsors Bank of Ireland and Roscommon Co Co for their vision, belief, on going assistance and "can do" interest in the town's future.
"The judges told us tonight that we were very professional in our presentation and that they were unbelievably impressed with all the town has achieved and our plans for the future."
" We left no stone unturned in our preparation for the awards and we showed the judges everything that the town has to offer – there were no omissions.
"While showing all the tourism related areas and products there are in Boyle, we also showed the great shops, restaurants, bars and industries that make up the town" said Brian.
"The trips to Vention Medical, Trojan IT and Feeylstone were impressive and brought home how important industry is to a town like Boyle".
"Sometimes we can take what we have for granted but I can assure you, if you took the time, like we did, to look at the many facilities, clubs, organisations and businesses we have in Boyle added to by the strong level of volunteerism, you would see our town in a very positive light.
"Being able to now tag Boyle as "Ireland's Most Enterprising Town" will be a catalyst to help the Town Team and Chamber of Commerce to attract business to Boyle and assist in the exciting future plans and projects that we will announce before Christmas"
" For now, lets all enjoy and feel proud of the town's new found title and success" concluded Brian.
Boyle Town Team: Brian Nerney, Justina Gavin, Frank Geelan, Martin Connolly, Patricia Golden, Alison Clarke, Dara Callaghan, Cecil Draper, Sinead Devine, John Cummins, Bodo Funke, Mervyn Boles, David Gunning, Trevor Conroy, Margaret Mulligan, Lydia Dwyer and Michael Ewing
(main pic: Gerry O'Loughlin photography)