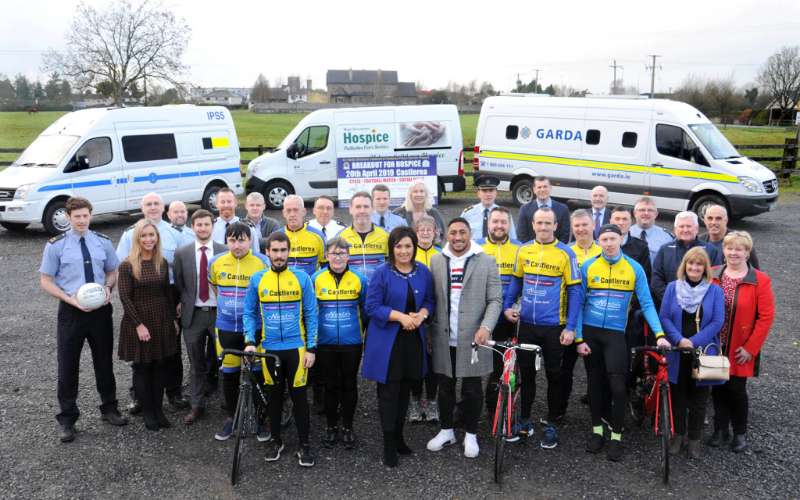 The Prison Service and An Garda Síochána in Castlerea have joined forces with Castlerea Cycling Club in a bid to raise much needed funds for Mayo Roscommon Hospice, with a charity cycle and GAA friendly football match scheduled to take place on Saturday 20thApril 2019 in Castlerea. The inaugural event, which is aptly named "Breakout for Hospice" promises to be an action packed, fun filled day for all to enjoy and just wait until you see the schedule of events!
The morning kick starts at 11am and first up is the cycle. There are 3 routes for participants to choose from (120km, 70km and 15km family cycle) ensuring that all fitness levels and age groups are catered for. The 120km Route is recommended for Elite Cyclists. It will begin in Castlerea heading on towards Boyle, Elphin, Strokestown, Lanesbourogh, Roscommon and back to Castlerea. The 70km route also starts in Castlerea where cyclists will head to Boyle, Tulsk, Castleplunkett and finish back in Castlerea. And third option is the 15km Route which is open to all age categories/levels of fitness. It takes off from The Hub in Castlerea onward to Ballintubber and back to Castlerea again. The Hub in Castlerea will play host to an exciting Family Fun Day and refreshments will be served to all those participating in the cycle on their return.
Next up on the agenda for the day is a novel GAA Football match at 6pm where members of An Garda Síochána will line out against members of the Irish Prison Service to see who will become the Breakout for Hospice 2019 Champions! The grand finale of the event takes place that night in Hester's of Castlerea at 10pm with a social event and auction.
"The Prison Service are delighted to foster the existing partnership with Mayo Roscommon Hospice and an Garda Síochána and we feel it is also a great opportunity to strengthen existing links within the greater community. We have been working with the Hospice for the last few years on the shamrock for Hospice project and we would like to take this opportunity to thank the staff in Castlerea prison for their involvement and support in this wonderful initiative" said Anthony Shally Assistant Governor Castlerea Prison.
All funds raised from the day will be ring fenced for the build of the Roscommon Hospice which is due to commence later this year. The much needed state of the art 8 bed Hospice (which is due for completion in 2021 and will be built solely from fundraised revenue) is estimated to cost €5 million.
"An Garda Síochana are thrilled to be involved in this community engagement project and delighted to be associated with the Irish Prison Service in raising essential funds for Hospice and the build of the new Hospice in Roscommon. It is a great way for us to strengthen the existing support that is already in place locally for the Foundation. It was actually our annual coffee morning in Castlerea Garda Station that brought about the idea as both the Prison Service and ourselves wanted to bring our fundraising efforts to the next level so by unanimous decision by all, it was decided to run with this event!" said Seamus O'Boyle Superintendent Castlerea Garda Station.
In addition to funding the building costs of the Roscommon Hospice, Mayo Roscommon Hospice will also continue to provide the essential Palliative Care Service that is currently available within the local community and are on target to complete the Mayo Hospice which is due to open later this year. At a collective cost of €15 million, the Roscommon and the Mayo Hospice's are not a luxury, they are an absolute necessity for patients and families in the two counties who avail of the Palliative Care Service.
Speaking at the launch of the event CEO of Mayo Roscommon Hospice Martina Jennings said "We are just so incredibly grateful for the amount of goodwill and support that is being shown by the Gardaí and Prison Service of Castlerea with this novel event in aid of our Foundation. The passion and determination that has been displayed to date by the organising committee is just amazing and we are so thankful to all those who have come on board and to those who have given their time to help out in anyway. We would also like to say a special word of thanks to Bundee Aki for getting behind the event and to Harmac Medical Products in Castlerea who are our sponsor. We greatly appreciate the support."
Online Registration for the cycle is now open at https://eventmaster.ie/event/38nIx4tZW starting at €20. The first 100 registrations will be guaranteed a souvenir t-shirt for the event.
For further information please contact 0949388666 or email [email protected]