News
Candidate list for Friday's election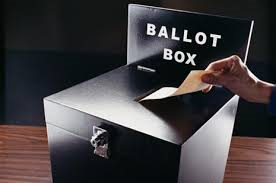 This Friday the people of the Boyle electoral area will have the opportunity to elect six candidates to Roscommon County Council for the Boyle Municipal District.
The are eleven candidates seeking election, listed below in alphabetical order:
Valerie Byrne, Elphin, Non Party, (Public Representative)
Liam Callaghan, Castlerea, Fine Gael, (Public Representative and Farmer)
Tom Crosby, Tarmonbarry, Non Party (Businessman)
John Cummins, Abbeytown, Boyle, Fianna Fail (County Councillor)
Sajjad Hussain, Ballaghaderreen, Non Party (Barber)
Michael Mulligan, Ballaghaderreen, Sinn Fein (Public Representative and Shopkeeper)
Joe Murphy, Strokestown, Fianna Fail (Post Person)
Mary O'Donnell, Ballinameen, Boyle, Non Party (Researcher)
Andrew Reynolds, Rooskey, Fine Gael (Entrepreneur)
Aidan Sampey, Fairymount, Fianna Fail (Factory Employee)
Keith Suffin, Plunkett Avenue, Boyle, Fine Gael (Community Worker)
On Friday, voters will also be asked to choose four candidates to serve the Midlands North West Constituency in the European Election.
The are seventeen candidates seeking election, listed below in alphabetical order:
Cyril Brennan (People Before Profit)
Matt Carty (Sinn Féin)
Peter Casey (Independent)
Luke 'Ming' Flanagan (Independent)
Patrick Greene (Direct Democracy Ireland)
Dominic Hannigan (Labour)
Fidelma Healy Eames (Independent)
Dilip Mahapatra (Independent)
Mairead McGuinness (Fine Gael)
Saoirse McHugh (Green Party)
James Millar (Independent)
Diarmuid Mulcahy (Independent)
Olive O'Connor (Independent)
Michael O'Dowd (Renua Ireland)
Anne Rabbitte (Fianna Fáil)
Brendan Smith (Fianna Fáil)
Maria Walsh (Fine Gael)
Also on Friday you will be asked to vote on a proposal to change the Constitution of Ireland in relation to divorce.
The proposal:
The proposal is about two issues relating to divorce, namely how long people must be living apart before applying for a divorce, and the recognition of foreign divorces.
There will be one question on the ballot paper and voters can either vote Yes to allow both changes, or No to reject both changes. Voters cannot accept one change and reject the other.
The Chairperson of the Referendum Commission Ms Justice Tara Burns has urged all voters to ensure their voice is heard in the referendum on May 24th.
Justice Burns said the referendum is about the regulation of divorce.  "The proposal to change the Constitution has two parts. The first part of the proposal is to remove from the Constitution the requirement that a couple be living apart for 4 out of the previous 5 years before they can apply for a divorce.  If the proposal is passed, it will mean that the Oireachtas can legislate about this issue in the future.
"The second part of the proposal relates to foreign divorces.  A provision of the Constitution states that a person who has obtained a foreign divorce abroad which is not recognised in the State cannot remarry.  The proposal is to remove this provision of the Constitution and replace it with a provision which explicitly states that the Oireachtas can legislate to recognise foreign divorces."
You can read more here