News
Christmas dinner night in Frybrook House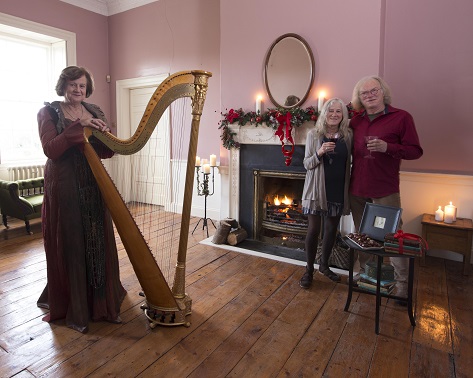 On a very special evening in November, inspired by Fáilte Ireland's 'Taste The Island' festival, the proud new owners of Frybrook House in Boyle will once again open the doors of this much loved historic residence.
Guests will be treated to a magnificent Georgian Christmas Dinner Experience prepared by the Executive Head Chef of Kilronan Castle, David Porter. This experience was inspired and coordinated by Úna Bhán Tourism.
The seven course, five-star menu will be a true reflection of the region and era, with all seasonal produce sourced locally. Also on this magical night guests will enjoy a drinks reception, pre and post dinner entertainment.
This promises to be a wonderfully festive way to welcome the rebirth of this iconic building.  It is also an opportunity to celebrate the Fry family's highly regarded hospitality, as well as their rich association with food, through their famed Fry's Chocolate Cream bar, the first ever mass produced chocolate bar, launched in 1866 and still available today.
Make the moment last!
Please note places are limited.
Tickets for this very special night on Friday November 29th are €135.00, which includes a drinks reception, seven course menu, wine and entertainment. Due to huge demand and limited availability anyone interested is invited to enter a draw which will take place on Tuesday November 12th.
Contact Úna Bhán Tourism on 071 96 63033 or email [email protected] to register your interest or for more information. This is a not for profit event.
Find out more about Taste The Island by visiting http://bit.ly/2NhJlYu
Historical Background
Frybook House was built in 1753 for Henry Fry who had moved to the town from Co. Offaly at the invitation of the Earl of Kingston to establish a weaving business.
Originally, the family came from Somerset and a descendant from the same family who established the famous chocolate manufacturing business which bore the family name, Fry's Chocolates.
In Roscommon the family were held in high regard by the local community for their generosity.  Every day a bell would ring at 5pm for dinner. It was an invitation for anyone to come and dine with them. A tent was kept in the grounds surrounding the house for those who couldn't fit in the dining room.