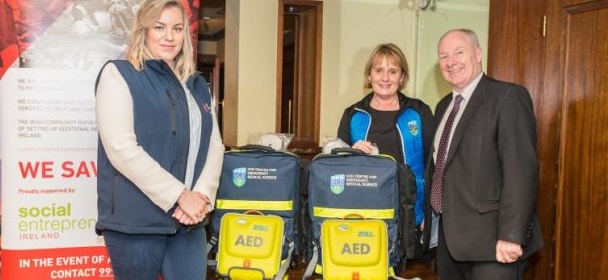 The Minister for Rural and Community Development, Michael Ring TD, has announced details of the CLÁR programme for 2018. CLÁR provides funding for small scale capital projects in rural areas, including Roscommon, that have experienced significant levels of depopulation. The programme, which has a budget of €5 million this year, forms part of the Government's Action Plan for Rural Development and will support investments such as play areas for children; traffic calming measures around schools; and support for emergency responders.
Minister Ring said: "We want to encourage people to raise their families in rural areas by helping to improve the quality of life locally. A modest investment under the CLÁR scheme, such as the provision of a playground or play area, can have a significant impact on a rural community.
"The CLÁR programme is also helping to make rural schools safer for our children by funding footpaths outside schools and supporting traffic calming measures to get cars to slow down as they pass schools. These are simple measures but they make a huge difference for parents and children in rural communities.
"I recently visited remote Knockananna in west Wicklow, where an artificial pitch and playground, funded under the CLÁR Programme, have transformed the village and provided a fantastic outlet for people in the community.
"I am delighted to announce that once again this year, the CLÁR programme will support our voluntary first-response organisations who provide an excellent and vital service in rural areas, often under very difficult circumstances. Having a defibrillator in your area can mean the difference between life and death for a local person. It's that simple. Last year 158 of these devices were distributed under the CLÁR Programme. We also allocated funding for twelve emergency response vehicles for voluntary organisations including the Order of Malta and the South Eastern Mountain Rescue Association.
Minister Ring added: "One of the strategic objectives of the Government's Project Ireland 2040 strategy is to strengthen rural economies and communities. The CLÁR programme is helping to improve the quality of life in rural communities and is an important part of the Government's integrated strategy for rural development which will be supported through the new Rural Regeneration and Development Fund. This fund will provide an additional €1 billion to be invested directly into rural communities by my Department up to 2027."
"I am delighted to announce the allocation of €5 million in funding for the programme this year and I will be inviting Local Authorities and other groups to submit proposals to my Department for consideration."
2018 Measures
The 2018 CLÁR programme will see funding provided under three measures:
Measure 1:   Support for Schools/Community Safety Measures
Measure 2:   Play Areas
Measure 3:   First Response Support Measure
Minister Michael Ring is pictured with defibrillators. Also in pic, Ruth Bruton (left) from ICRR (Irish Community Rapid Response) and Mairead Egan, UCD Centre of Emergency Medical Sciences.