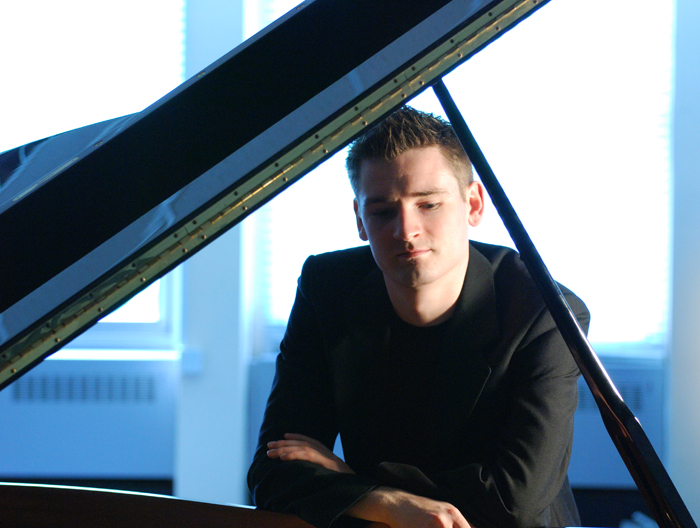 Boyle Arts Festival 2019 will officially be opened by Professor John Crown in the grounds of King House on Thursday July 18th and the evening will be celebrated with street theatre from Curious State and live music from Me & The Lads, featuring Sinead Conway.
(By Brendan McGee)
One of the cornerstones on which the Boyle Arts Festival has been firmly established, is a strong programme of Classical and Traditional music. Our 30th annual Festival will showcase some unique events, featuring many of the finest classical and traditional musicians in the country.
One of our headline classical artists this year is soprano Emer Barry. Emer will be joined by tenor Eoin Hynes, pianist Niall Kinsella and violinist Lynda O'Connor for 'Storyteller – Fairytale to Tearjerker', a celebration of stories and song, told through different genres of music. This concert will take place in the Church of Ireland on July 26th.
The cloisters of Boyle Abbey will be used for an Opera Gala Performance of Puccini's 'La Boheme' by the Harlequin Opera Company, on Saturday July 27th. Starring the cream of Irish operatic talent, the concert will be headed by tenor David Lynn, with sopranos Sandra Oman and Deirdre Masterson, baritone Simon Morgan and bass Rory Dunne. Under the musical direction of David Wray, this will be a spellbinding experience for all romantics at heart.
Please note that seating is not provided and the audience is asked to bring low-backed seating or blankets. Tickets must be purchased in advance for this event.
The ConTempo Quartet will join the Choir of St. Joseph's Church for an evening of enchanting music in the Church of Ireland on July 25th. Featuring cellist Adrian Mantu, violinists Ingrid Nicola and Bogdan Sofei along with Andreea Banciu on viola and the Musical Director of the choir, Anne Kielty on piano, the fifty member, four part choir will perform some well known classical pieces.
Belfast born pianist Michael McHale will make a welcome return to Boyle Arts Festival, where he will be joined by violinist Patrick Rafter for an evening concert in King House on July 24th. Their programme will include music by Mozart, Debussy, Ravel and Franck.
The always popular King House lunchtime concert programme will include performances by Trombonist Kieran Sharkey, joined by Jack Cullen on Tuba on July 19th, soprano Ami Hewitt and tenor Oisín Ó Dálaigh on July 23rd, harpist Luke Webb and flautist Jack Hennessy on July 24th, TU Dublin junior pianists Lucy Byrne, Peter Ryan & Gerry Yang on July 25th, pianist Aoife Moran will be joined by Christina Ryan on clarinet on July 26th and a coffee concert will feature pianist Didzis Kalnins on July 27th at 11am.
The Traditional music programme will begin with 'Portal', a specially commissioned one hour concert premiere, exploring the myth and memory of Cruachán in Rathcroghan. This new work by composer Siobhán Cleary will also feature compositions and performances by a nine piece ensemble, including renowned flautist Eimear McGeown who is joining us especially for this performance, Cathy Jordan, John Carty, Gerald Peregrine and narration by Vincent Woods. The concert will take place in the Church of Ireland on Saturday, July 20th. This performance has been funded through the Arts Council traditional project award.
The always popular Traditional Night will feature performances from Peter Molloy, John McCartin and Sean Regan in Mattiomoe's bar on July 22nd.
Fiddle player, Mossie Martin will be joined by guitarist John Blake for the launch of Mossie's new album 'The Humours of Derrynacoosan' in Clarke's bar on July 24th.
On July 25th the always popular Singer's Night will take place in Dodd's Crescent bar. The Boyle Singers will be joined by special guest Aoife Murray from Cavan. Aoife will be holding a workshop in Dodd's beforehand. Please see our Programme for details of this.
For health and safety reasons, please note that there are capacity limits at most of our venues and in the event of sold out performances, only ticket holders will be admitted.
Tickets for several of these events are now available online, through www.boylearts.com.
Bookings can be made at the Festival office, next door to Marian's on Bridge Street. The office will be open every day (excluding Sundays) from Monday July 8th until July 27th. Drop in to pick up a programme or to find out about the other exciting events. For more information, see our full programme. Tel. 071 9663085. Email [email protected] or follow us on Facebook,
Boyle Arts Festival acknowledges the support of the Arts Council, Local businesses, Fáilte Ireland and Roscommon Co. Council and Roscommon Leader partnership.