News
Covid vaccines administered at Plunkett Home CNU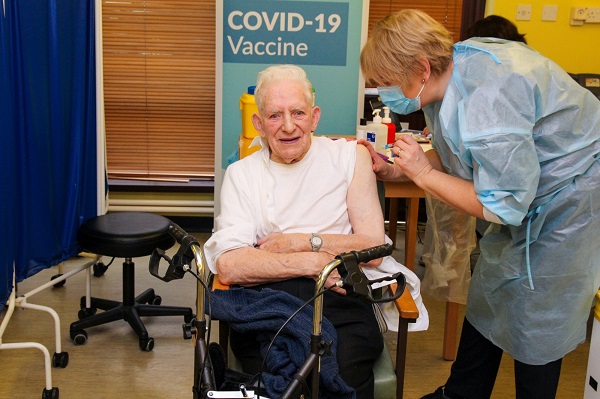 93-year-old Seamus Beirne (pictured) became the first resident at the HSE's Plunkett Community Nursing Unit in Boyle to be vaccinated against Covid-19 on Monday.
The Carrick-on-Shannon native said he was feeling good after becoming the first resident of a care facility to get the Pfizer BioNTech jab.
Seamus said on receipt of the Pfizer vaccine, "I feel good after getting the vaccination, it didn't trouble me a bit.  I didn't feel it at all nearly, very little anyway.  We're missing the visitors as well – all we can do is look out of the window.  Hopefully this will change when we all get the vaccine."
96 year old Eileen Cox a native of Grangemore, Boyle was one of the first ladies to receive the vaccine in Plunkett CNU, "I feel grand, I feel happy – I didn't feel it at all – you'd get used to these injections!  I do get the vaccination every year for the flu."
Dr. Mary Butler, Director of Nursing at Plunkett CNU stated with delight "I have been looking forward to this day 'Vaccine Day' for some time – the vision of a resumption of  normal life previously taken for granted, is now within reach. The vaccination programme is just another small step towards this.  It means that staff and residents will feel more protected.  It has added to improved confidence and greater resilience for staff against the COVID-19 virus."
Dr. Butler highlighted that staff in Plunkett CNU are essential frontline health care workers and have a strong commitment to taking the annual Flu vaccination and are supported by having two qualified peer-to-peer Nurse Vaccinators on site – Ninan Thomas and Sheila Brehony.  "Staff report that they understand the benefits of all staff being vaccinated annually against the annual Flu virus and this year their enthusiasm in taking the COVID-19 vaccine has not faltered."
Breda Crehan-Roche, Chief Officer, Community Healthcare West stated "Since the COVID-19 pandemic began, we have endeavoured to protect and support the most vulnerable in our communities. Today was a momentous day for Plunkett CNU, Boyle. 
I want to extend my thanks to those who are committed to caring for our most vulnerable, ensuring they are kept as safe as possible.  Thanks also to our Peer Vaccination team for the roll out of the vaccination programme.
We all still need to be mindful and continue to follow HSE and Public Health advice, COVID-19 is still being transmitted in our communities – we need to stay alert, play our part, wear a mask, stay apart
However, now that we have the COVID-19 vaccine, there is indeed hope and light at the end of a very dark few months.
All staff and residents vaccinated were given a HSE vaccine information leaflet, along with more detailed manufacturer's patient information leaflet, before getting the vaccine. Afterwards, each person vaccinated was given a vaccine record card, showing the name and batch of the vaccine they have received. They will each receive a second dose, to be fully protected, in three weeks
The comprehensive COVID-19 vaccination programme across Community Healthcare West will see our teams vaccinate residents and staff at more than 100 locations. In long stay residential facilities for Older Persons, our vaccination teams will travel to 66 private nursing homes and 20 residential facilities run by Community Healthcare West to vaccinate residents and staff.  Our vaccinator teams will be giving vaccines at each of those locations, making two separate visits, three weeks apart to provide dose 1 & 2
Worldwide, vaccines save at least 2-3 million lives each year – and protect many more from crippling and lifelong illnesses. Only COVID-19 vaccines that have been authorised by the European Medicines Agency, having met stringent safety and effectiveness standards, will be used in Ireland. All COVID-19 vaccines will be carefully monitored over time and updated safety data and information will be published and shared by the HSE, on our website and in our printed information materials.