News
'Jerusalema' visits Plunkett Community Nursing Unit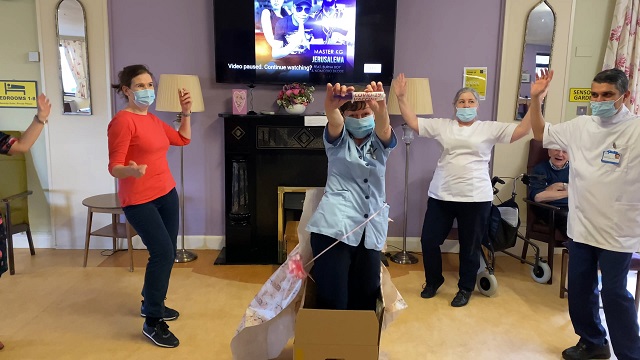 The Jerusalema dance trend began in February 2020 when Fenómenos do Semba, a group in Angola, South-West Africa, recorded themselves dancing to the song while eating and without dropping their plates!
Gardai in Ireland took on the challenge in January 2021 and threw down the gauntlet to the public to get involved and share their videos using the hashtag #JerusalemaChallenge and kicked off a trend that has taken over the country.
The repetitive dance routine to the 2019 hit 'Jerusalema' by Master KG and Nomcebo Zikode, has provided an uplifting soundtrack for difficult times and has now caught on to the people living and working in Plunkett Community Nursing Unit (CNU) in Boyle.
Stella Murphy, Health Care Attendant who facilitates a variety of activities for residents, choreographed the video using the story line of the joy that the delivery of the COVID Vaccine brought to the Unit in January 2021. The idea of a present of a box of vaccines being delivered to the Unit came from a resident named Tom who thought that the box of vaccines would be a lovely metaphor for delivering something good to the Unit.  Nurse Bernie Feeney was one of the main participants delivering the vaccine as she jumped out of the vaccine gift box, which caused great merriment to all the residents.
The 'producer' Jaison Kachakanolical urged all to take part in the dance challenge, demonstrating the dance routine to residents and staff.  Many residents including Seamus, Des, Monica, John, enjoyed dancing to the rhythm of the music. Residents who did not want to dance Annie, Helen, and Rita said that it was great fun being involved and watching everyone going through their steps. Residents were proud of their vaccine and showed off their vaccine by showing their 'certificate of completion' in the video.
Dr. Mary Butler, Director of Nursing said "The Jerusalema music and dance routine has brought spontaneity and fun to everyone and we all hope that it symbolises the end of the difficult journey which we have all travelled, remembering those who lost their lives, and to appreciate all the good times that are yet to come"
To watch the upbeat video please click link https://youtu.be/NqJYhr8B0HA