Events
Events for election commemoration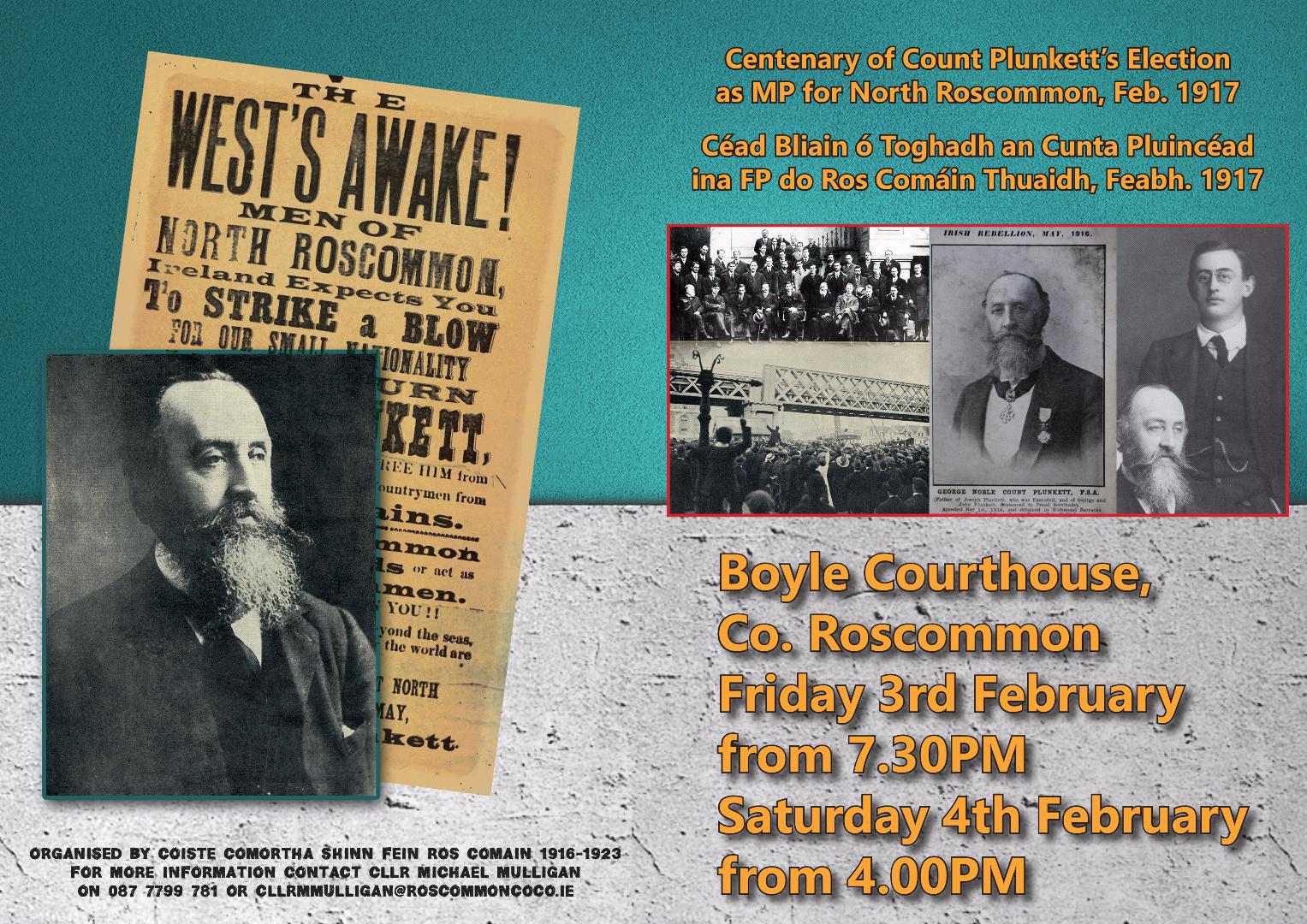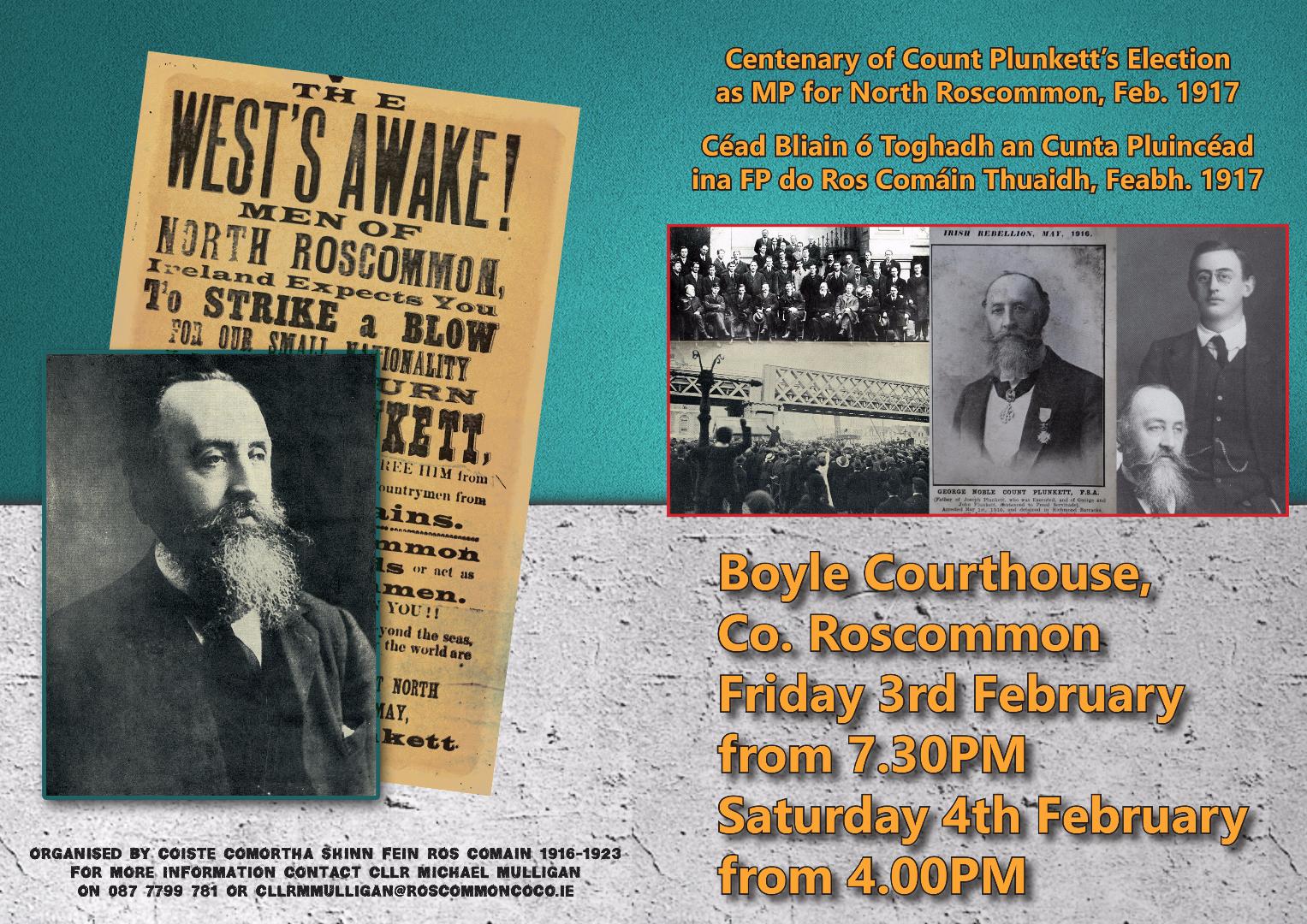 A Commemorative Weekend is being held this weekend in Boyle to mark 100 years since the election of Count George Noble Plunkett as MP for North Roscommon.
This historic by-election paved the way for Sinn Féin's electoral breakthrough in the 1918 General Election, breaking the grip that the Irish Parliamentary Party had on nationalist politics across the island.
Sinn Féin have published a programme of events for Friday 4th – Sunday 5th February in Boyle centring on the Boyle Courthouse which is currently being refurbished.
On Friday 4th February from 7.30pm in the Courthouse there will be an official opening of the "Count Plunkett Exhibition" and a lecture from Dr. Conor McNamara of NUI Galway. Mr. McNamara was the 1916 Scholar-in-residence at NUIG and is currently working on researching the 1916-1923 revolutionary period, in which Count Plunkett's election was such a pivotal moment.
There will be a social night after the lecture in the Moylurg Inn, Boyle from 9.30pm with local musician Shane Cronogue.
On Saturday 5th February from 4.00pm, Boyle Courthouse will host the main event of the weekend where 2016 General Election candidate Claire Kerrane from Ballaghaderreen will chair proceedings. The event will include a re-enactment of the 1917 Count, a talk given by Honor O'Brolchain – Count Plunkett's Great-Grandaughter and grand-niece of 1916 Easter Rising leader Joseph Plunkett – songs sung by the great Bernadine Casserly of Frenchpark, a key-note address from Sinn Féin Vice-President Mary Lou McDonald and re-enactment of Count Plunkett's acceptance speech at the steps of the Courthouse followed by a torchlit procession through the town.
In promoting the weekend of events, spokesperson for Coiste Comórtha Shinn Féin Ros Comáin 1916-1923, Cllr. Michael Mulligan of the Boyle LEA, said: "This weekend is of huge historical importance to Roscommon and the island as a whole. Count Plunkett stood as an independent republican candidate and in the aftermath of his comprehensive victory, he played a major role along with the likes of Fr. O'Flanagan from Castlerea, in forming the modern Sinn Féin political party which swept to power in 1918. He was the first ever elected MP to be affiliated to Sinn Féin. We will have an exhibition in the Courthouse all weekend detailing the 'Election of the Snows' and other significant events and individuals in Plunkett's political life.
"I am delighted that we will have a great-line up of guests on the night from Count Plunkett's great-grandaughter Honor O Brolchain, Dr. Conor McNamara and Mary Lou McDonald TD to the great Bernadine Casserly and our local MEP Matt Carthy. I would also like to sincerely thank the Boyle Courthouse Development Committee and its chairperson Frank Geelan for allowing us the use of the hall for this event. Finally, I encourage anyone with an interest in local history, politics or indeed in the Plunkett, Devine or Tully families to join us in marking this important moment in the history of Roscommon over the course of the weekend."