News
Film shot in Boyle goes on release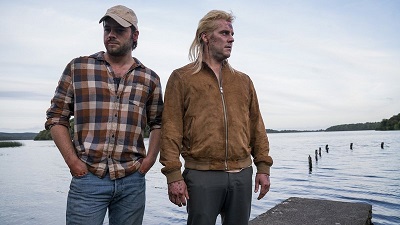 A new Irish film shot on location in Boyle will soon go on general release.
'Dark Lies the Island' received its world premiere at the Dublin International Film Festival earlier this year.
It opens to the public next week and will be shown in Carrick Cineplex on Wednesday October 16th
Written by Irish author Kevin Barry and based around characters he created for his own short story collection, Ian Fitzgibbon's (Death of a Superhero) pitch-black comedy centres on a small Irish town over a week-long period.
Many of the scenes were shot in Boyle and around Lough Key with actors such as Pat Shortt, Tommy Tiernan, Peter Coonan, Charlie Murphy and Moe Dunford all staring in the film.
Synopsis:
"If you're going to get involved with men in the town of Dromord, they might as well be Mannions – and Sara is involved with them up to her neck.
She's married to Daddy Mannion, more than 20 years her senior, and who more or less owns the town. But her first, and maybe her true love, was his estranged son, Doggy Mannion, who is by now a criminal recluse living in the woods outside town. Then there's the younger brother, Martin Mannion, a small-town Lothario and failing chicken farmer. Sara has just got involved with him too.
As a result of this tangled erotic web, jealousy is rife in Dromord, and it's flinging out its spears in all directions. The Mannion men have been set at each other, their long truce cannot hold, and violence is threatened".
See the trailer here