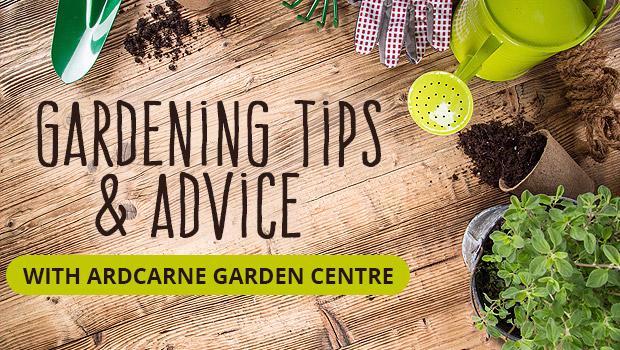 Welcome to "Gardening Tips and Advice" on Boyletoday.com, the official Ardcarne Garden Centre gardening column. Every Wednesday, the experts in your local Ardcarne Garden Centre will provide relevant and topical items of interest exclusively here on Boyletoday.com to help you get the best from your garden.
Job of the week: Thinning seedlings
However carefully you sow carrot and salad seed they always seem to come up in clumps. Wait for a damp day, as the unwanted seedlings will come free more easily, and pull out the smallest in each clump leaving the strongest to grow on at a spacing of about 5cm between plants. You can transplant some of your unwanted seedlings to fill gaps in the row, too.
Flowers:

Place barriers around vulnerable young plants to protect them from slugs

Prune spring shrubs like philadelphus and weigela after flowering

Deadhead rhododendrons, carefully 'peeling away' the old flower head as new shoots are usually coming up just underneath

Fruit & veg:

Stop cutting asparagus to let plants develop fronds

Harvest vegetables as they mature, picking every two or three days if necessary

Plant winter brassicas and protect them from pests with an insect-proof mesh

Greenhouse:

Pot on pelargoniums into larger containers to keep the display coming

Damp down paths to keep temperatures down and humidity up

Tie in tomatoes and feed weekly with liquid tomato food

Around the garden:

Water new lawns which were sown or laid from turf this spring

Hoe weekly to nip off annual weeds before they get above ground
Houseplants – Gifts that Grow
Houseplants are such a wonderful gift for any occasion and a gift that really does continue to grow. Whether you are buying a houseplant as a gift, or simply one to brighten up your own home, you'll find an amazing range of indoor plants at Ardcarne Garden Centre, even types for the less than green fingered!
There are few homes in Ireland that don't have at least one houseplant. Although one time it may have been just a red geranium on the kitchen windowsill, now the choice of houseplants is simply staggering.  These days you'll find orchids and other exotics from all over the world, gracing our rooms and conservatories, bringing a colourful slice of the tropics to our homes.
Enjoy the benefits
In addition to looking nice, houseplants have been proven to improve our indoor living environment and offices. But even without these healthy benefits, just the sense of sharing our homes with something living and so beautiful is reason enough to buy a few more houseplants. Don't worry if you have a seemingly difficult position for plants to grow at home, you can be sure to find a perfect plant to suit with the wide range available from Ardcarne Garden Centre and by talking to the experts at the garden centre.
Simple Care Tip
Some houseplants are definitely easier and longer lived than others, but the quick demise of a houseplant can often be something simple such as over watering. If you keep your plants in a saucer or an outer ornamental pot, then be sure to check that there is no excess water sitting in the bottom. A little water may run out of the pot just after watering, but this will usually be soaked back up by the plant. Any excess left in the saucer after about 10 minutes should be tipped out.
Re-potting
A good tip is to re-pot a new houseplant almost straight away. This is especially important for plants in small pots, as they will quickly become pot bound and are likely to dry out more quickly. You should also think about re-potting other houseplants about once a year, to give them a new lease of life. Use Plantsplus Professional compost as it has slow release fertiliser, which keeps your plants fed for about six months. Some liquid feeding during the growing season is also beneficial.
Popular Choices
Among the most popular houseplants at Ardcarne Garden Centre, are the Moth Orchids. These flamboyant flowers are actually very easy to grow, even on a kitchen or living room window, and flower for months. If you are looking for an easy specimen plant for a room, then the Kentia palm is both easy and very dramatic with its large arching deep green leaves. The umbrella plant would also be an excellent choice. Dark hallways may look very unpromising for a plant, but a whole host of types will thrive here, including the peace lily, grape ivy, ferns and of course ivies.
Right Plant Right Place
Bathrooms are perfect for plants such as ferns, tradescantias and begonias, which relish the often humid conditions and diffused light. The complete opposite conditions are usually found in a conservatory. Here the bright light and fluctuating temperatures can be challenge for plants but again, the right plants will all do well. Choose bougainvilleas, Aloe vera, the money plant, abutilons and passion flowers and your conservatory will become a tropical paradise.
For more information contact:
Ardcarne Garden Centre
Boyle, Tel: 07196 67091
Roscommon Town: Tel: 09066 27700
Email: [email protected]
OPEN 7 DAYS