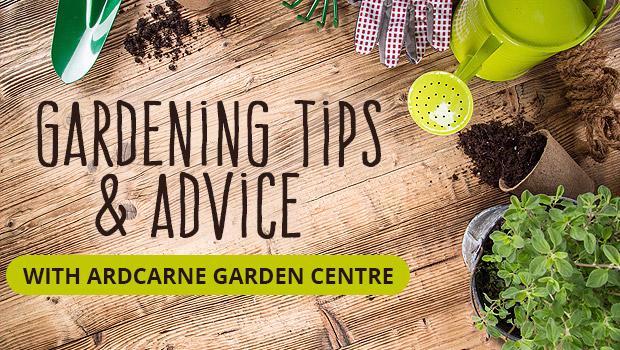 Welcome to "Gardening Tips and Advice" on Boyletoday.com, the official Ardcarne Garden Centre gardening column. Every Wednesday, the experts in your local Ardcarne Garden Centre will provide relevant and topical items of interest exclusively here on Boyletoday.com to help you get the best from your garden.
Job of the week: Spray your roses
Protect your roses from Blackspot and greenfly by spraying now with Roseclear. Choose a dry calm evening and use a pressure sprayer or Rose Clear Ready to use sprayer and ensure you cover all the leaves. Many of the newer varieties are now bred for greater disease resistance and varieties of Rosa rugosa also tend to be trouble-free.
Flowers:

Trim back winter flowering heathers once they have finished flowering.

Stake tall perennials before they get wind damage.

Cut out any 'reverted' (plain green) growth from variegated evergreens.

Fruit & veg:

Last chance to plant spuds – we've still a few left – now at HALF PRICE.

Protect crops from carrot fly by covering them with horticultural fleece orEnviromesh.

Net ripening strawberries to prevent bird damage.

Watch out for sawfly caterpillars on gooseberries and pick off or spray if necessary.

Greenhouse:

 There's still plenty of time for planting tomatoes, peppers, cucumbers and aubergines.

Open vents and hose the floor with water to cool overheating greenhouses

Keep sowing salad crops for a succession of fresh crunchy leaves.

Around the garden:

Plug any gaps in beds and borders now with new shrubs or perennials. Plant in groups for best effect.

New lawns can be sown directly onto well prepared and raked soil.

Apply HumberPalmers lawn feed to help your lawn grow thicker and greener.
Focus on……Perennials
Perennial plants are the life and soul of borders all through the summer months. They are simply packed with flowers which bring splashes of fresh and vibrant colour to the garden. Of course there are perennials which will flower in other seasons, but now is the time most perennials are at their most dazzling best. If your border lacks a bit of pizzazz at the moment, then look no further than flouncy paeonias, slender blue spires of salvias, elegant irises and many other perennials for an instant show of colour.
Perennials are plants that come back every year – so you can enjoy them in the garden for many years (even generations!). Almost all of them will naturally die down for the winter months, but they come up even better again the following spring. There was a fashion for grouping perennials together in an herbaceous border, but it's far better to use them among shrubs, so that you maintain a bit of structure in the winter.
Planting for impact
The versatility of perennials is something that can be fully exploited in the garden. You can find varieties that are suitable for ground cover, shady areas, coastal gardens, and wet or dry soil. If like many gardeners in the west of Ireland, you have heavy wet soil or a damp area in the garden then perennials such as astilbes, hostas, arum lilies, perennial lobelias and rodgersias will all luxuriate. Ground covering perennials are extremely useful for keeping down weeds. Some of the best varieties for ground cover are ajuga, bergenia, geranium and Persicaria affinis 'Superba', which will knit together to form a dense carpet. For the best effect always plant perennials in groups, using 3-5 of the same variety together, or more if using them for ground cover in a large area.
Aftercare
Very little aftercare is needed with most perennials, apart from cutting the old stems back in the winter. Every few years most of them will usually benefit from being dug up and divided, replanting strong pieces back into compost-enriched soil. This is best done in spring, just as new growth starts to appear. Most plants will divide easily, either by pulling pieces apart from the main crown or splitting through it with a spade or sharp knife, ensuring each piece has some roots and shoots. Dividing perennials like this keeps them vigorous and means that they will flower even better afterwards. It also means you can make a few extra plants to replant around the garden or give to friends!
The choice of perennials at Ardcarne Garden Centre is one of the largest in the country and you'll find many unusual varieties as well as the old favourites.
Our Top Ten Perennial Recommendations
 Geranium Rozanne – Recently voted the best plant introduction of the past 100 years! This hardy geranium has an extremely long flowering season and makes a pool of blue flowers at the front of a sunny border.
Penstemon Garnet – One of the hardiest penstemons and invaluable for its spikes of vivid garnet red 'foxglove-like' flowers from summer to late autumn.
Phlox paniculata – A reliable cottage-garden favourite producing heads of scented flowers from July to September. Colours include deep and pastel pinks, purple, blue and purest white.
Kniphofia – Aptly known as red hot poker, this long-lived perennial has sizzling red-tipped, yellow flower spikes in summer. Some varieties can also be pure yellow, orange, greenish white or dusky pink and all of them add strong vertical shapes to a border.
Hosta – Exceptionally lush foliage plants forming rosettes of green, chalky blue, gold or two-toned combinations. All of them are brilliant in shade and are easy to grow in pots.
Helianthemum – Commonly called rock roses, these low evergreen perennials revel in a sunny border where they will flower all summer. Their simple satiny swirls of petals can be pink, white or burnt orange.
Astilbe – The large feathery flower plumes of this easily grown perennial open in summer in shades of pink, red or white. Its ferny leaves are a lovely bonus and can be sumptuously shaded with bronzy red when emerging.
Crocosmia 'Lucifer' – This is one of the most striking plants for the late summer border when spikes of glowing red-flowers stretch above its lush clump of sword-shaped leaves.
Heuchera – Amazing foliage plants forming lush leafy rosettes of rich purple, gold or amber. The leaves are retained during the winter so are invaluable for containers.
Nepeta – Even before flowering, the low mounds of grey leaves on this aromatic perennial make a worthy contribution to a border. By midsummer the foliage is all but hidden under a froth of lavender blue flowers.
For more information contact:
Ardcarne Garden Centre
Boyle, Tel: 07196 67091
Roscommon Town: Tel: 09066 27700
Email: [email protected]
OPEN 7 DAYS